Now let's be real for a second here.
As a 90s kid growing up on a steady diet of romantic Yash Chopra movies that featured a heroine running in slow motion through a picturesque landscape with her saree's pallu flying in the wind behind, while her hero waits with open arms (bonfire in the snow OR a meadow of yellow flowers, optional), I was no stranger to the almost dreamlike quality of being "in Europe" for the average desi. I mean, after all, said couple proceeds to frolic around against the backdrop of majestic mountains and sing of a love that will last forever and forever. What's not to like? 😀
This summer, the day after we got to Hallstatt, we set out with the idea to go chasin' after that quintessential Bollywood dream sequence.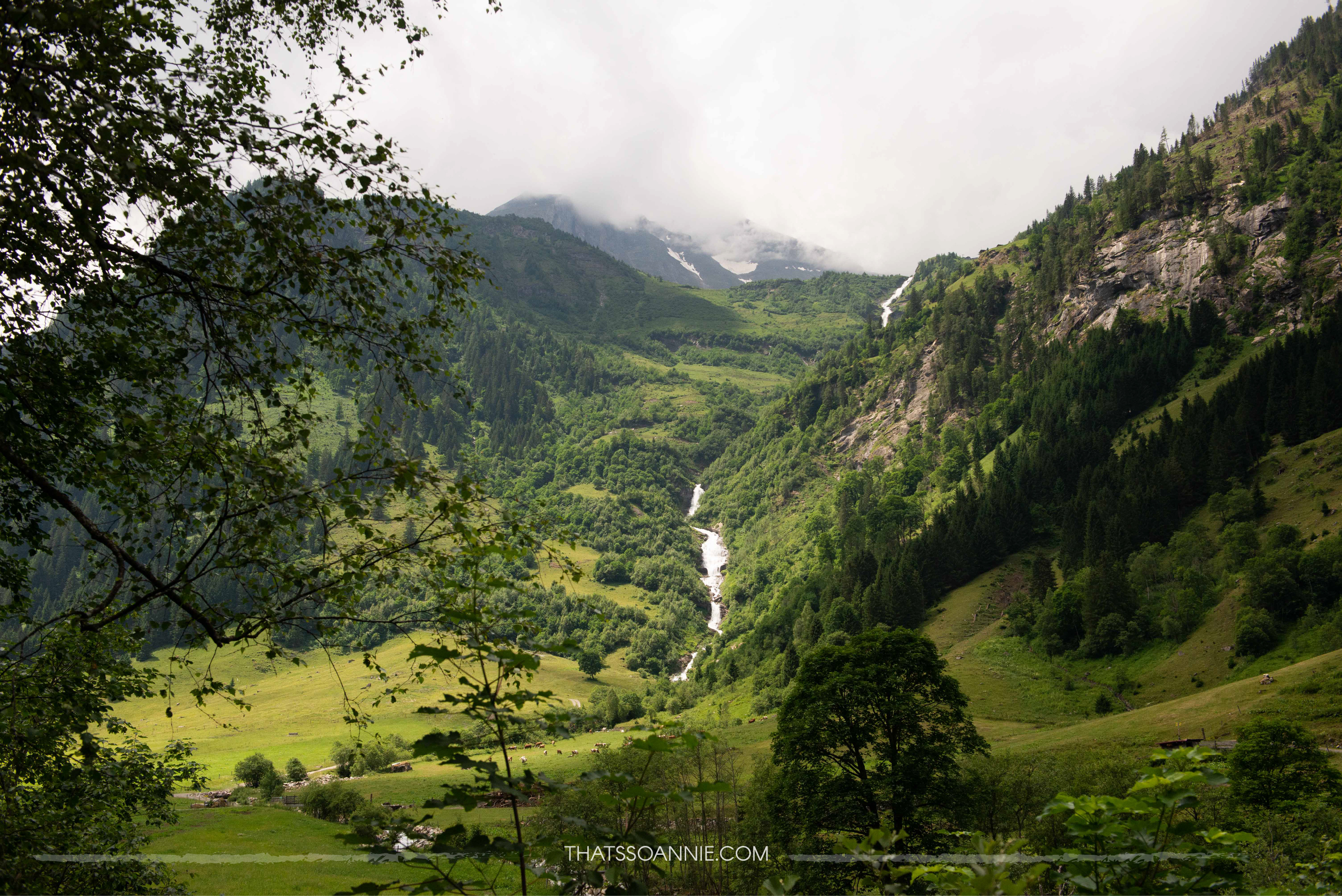 At 12,461 ft, Grossglockner is Austria's highest mountain and part of the Central Eastern Alps. The Grossglockner High Alpine Road, named one of Europe's most finest roads, is the highest mountain pass in Austria that connects Fusch (in Salzburg) and Heiligenblut (in Carinthia) with a series of hairpin turns through a lush landscape that is a Bollywood wet dream.
I read somewhere that about 900,000 people visit here every year. The road is 48 kms long and really, you could drive it in either direction. Whichever way you pick, you will follow a serpentine path that looks like a ribbon set perfectly through green valleys and mountains and meadows. We drove in from Hallstatt, so we entered from the northern entrance at Fusch.
It was a bit of a drive to get here from Hallstatt – a little less than two hours – so this detour doesn't normally feature as something you would do in Hallstatt. Fortunately, the drive feels just like minutes because of how pretty the views out of your window are (yes, even before you get to the good part!) It seems all of this region is dotted with small towns, cute BnB's, rolling green meadows and the Alps in the distance. We stopped on the way at a random coffee shop in a town called Annaberg, and found ourselves sitting alongside a brilliant blue-white stream flowing alongside.

The Grossglockner High Alpine Road is open from early May until early November, everyday from sunrise till sunset. The time varies depending on when you visit. From May 1 – May 31 it is open 6am – 8pm; June 1 – August 31 it is open 5am to 9.30pm; and from September 1 – November 1 it is open 6am – 7.30pm. The road allows for cars, motorbikes (you will see a LOT of these! So fun!) and bicycles (many of these too, and I can only imagine how insanely difficult this route must be going up!) – and everyone has to pay a toll. After paying our €36.50 required for a car, we got a couple of stickers for the dashboard, and we were officially on THE road.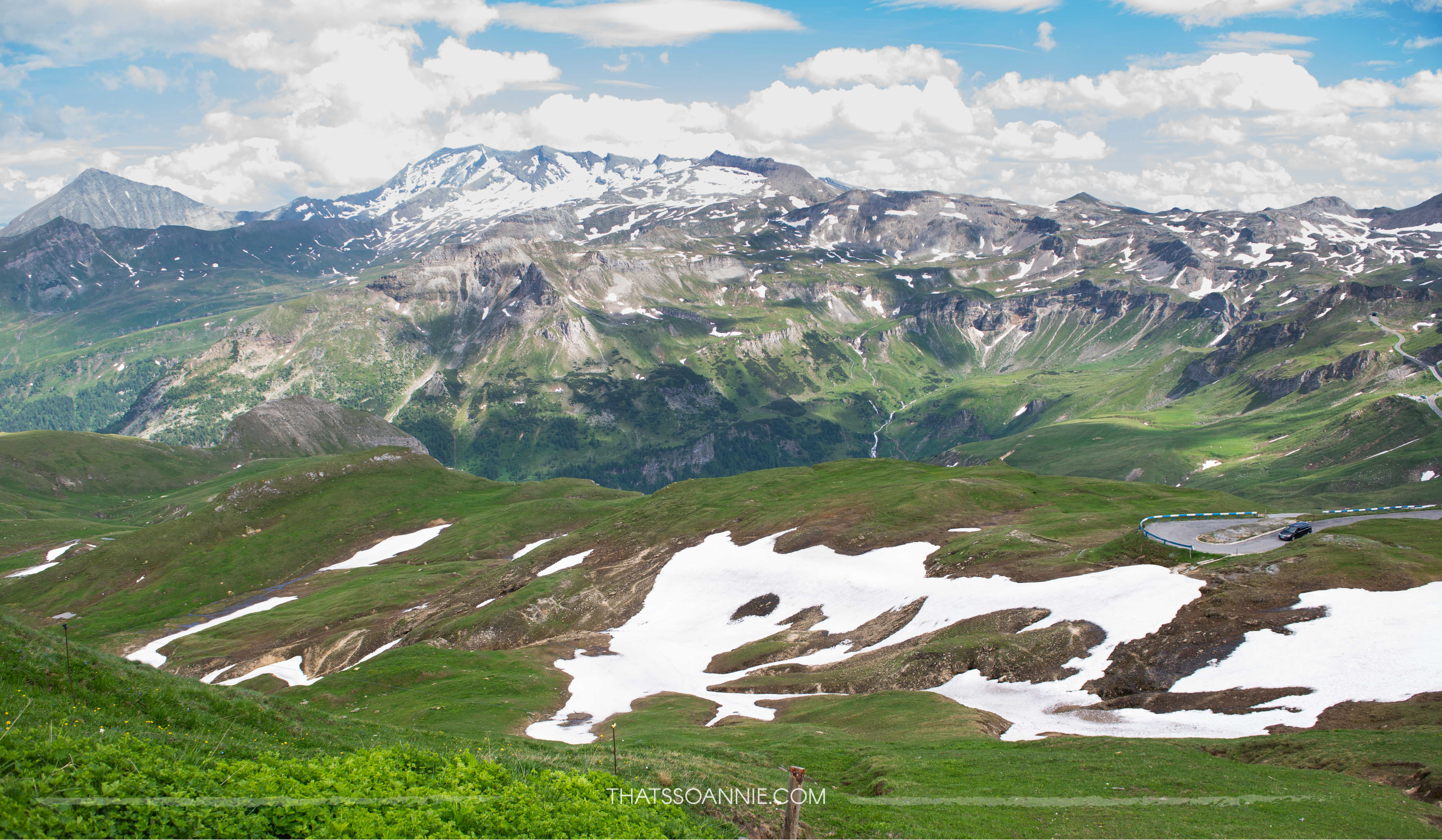 It felt like we pulled over every 5 minutes. We probably did. At every bend, every turn, there was something new and wonderful to marvel at – the color of the grass, the snow on the mountains sometimes within reaching distance, the way the light danced across the wilderness – there were so many things to take in at once. Road tripping with the guy is one of my favorite things to do – we just love being on the road so much. As the designated DJ (..and as the person who does not do the driving given the lack of driving license #Mumbaikar #NewYorker LOL), when not stopping every five minutes, I alternated us between alt rock and dreampop and the infamous #BollywoodBae playlist for us to sing along to.

Soon enough we were at Edelweiss-Spitze, the highest vantage point along the High Alpine Road situated at 2,571 meters. The official road turns into a large parking lot for the Restaurant Fuschertörl (where we later lunched), but for now we went up another rough gravel road that keeps going up to the lookout point. The last stretch on this drive is a bit precarious, but the view from up top …worth it! From up here, you could see the High Alpine Road's serpentine twists and turns in all of their glory. We stayed up for a long time (even though it is chillier up here and we were walking around in flipflops), watching large groups of bikers come and go with their roaring motorbikes and clouds chase shadows on and off the green.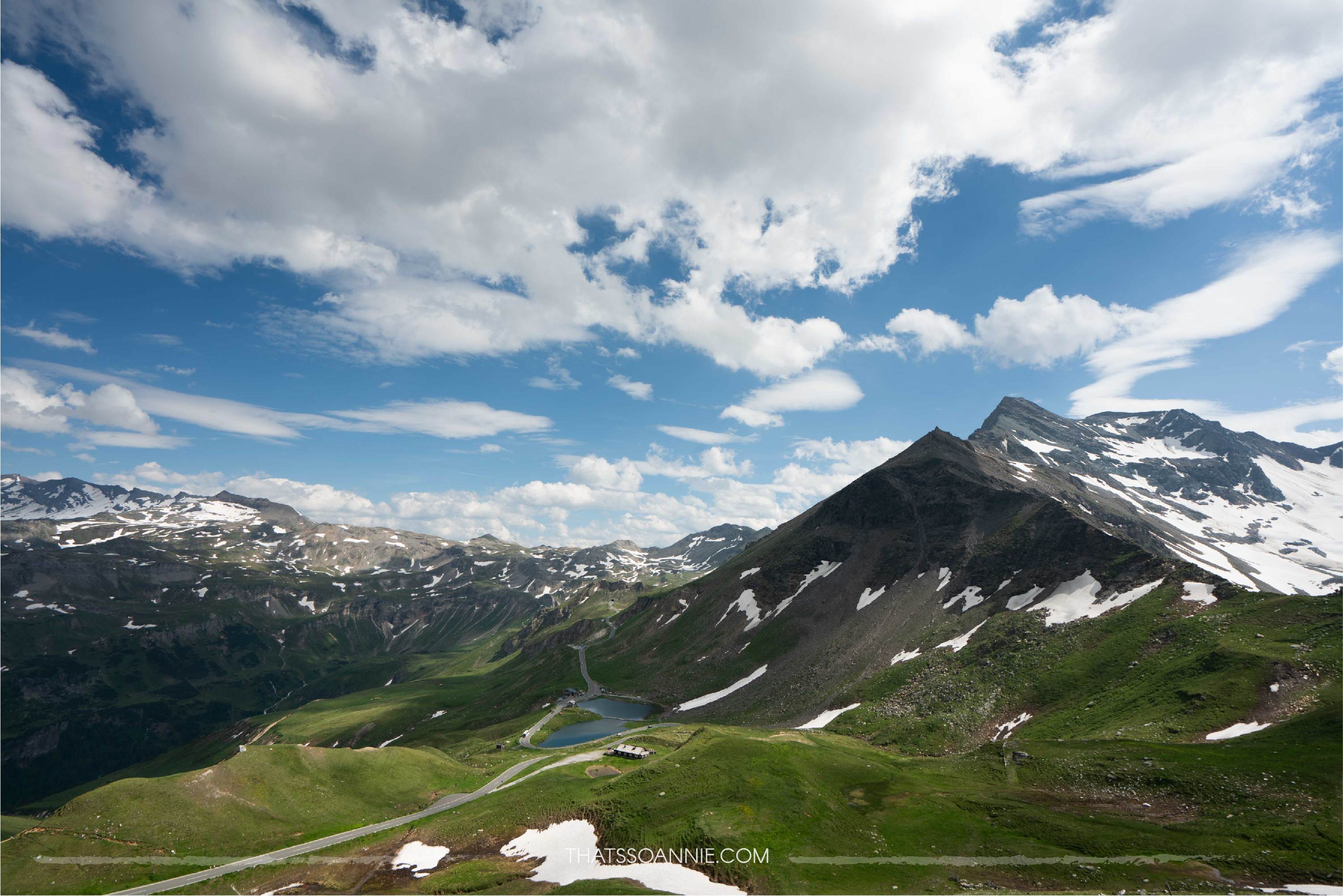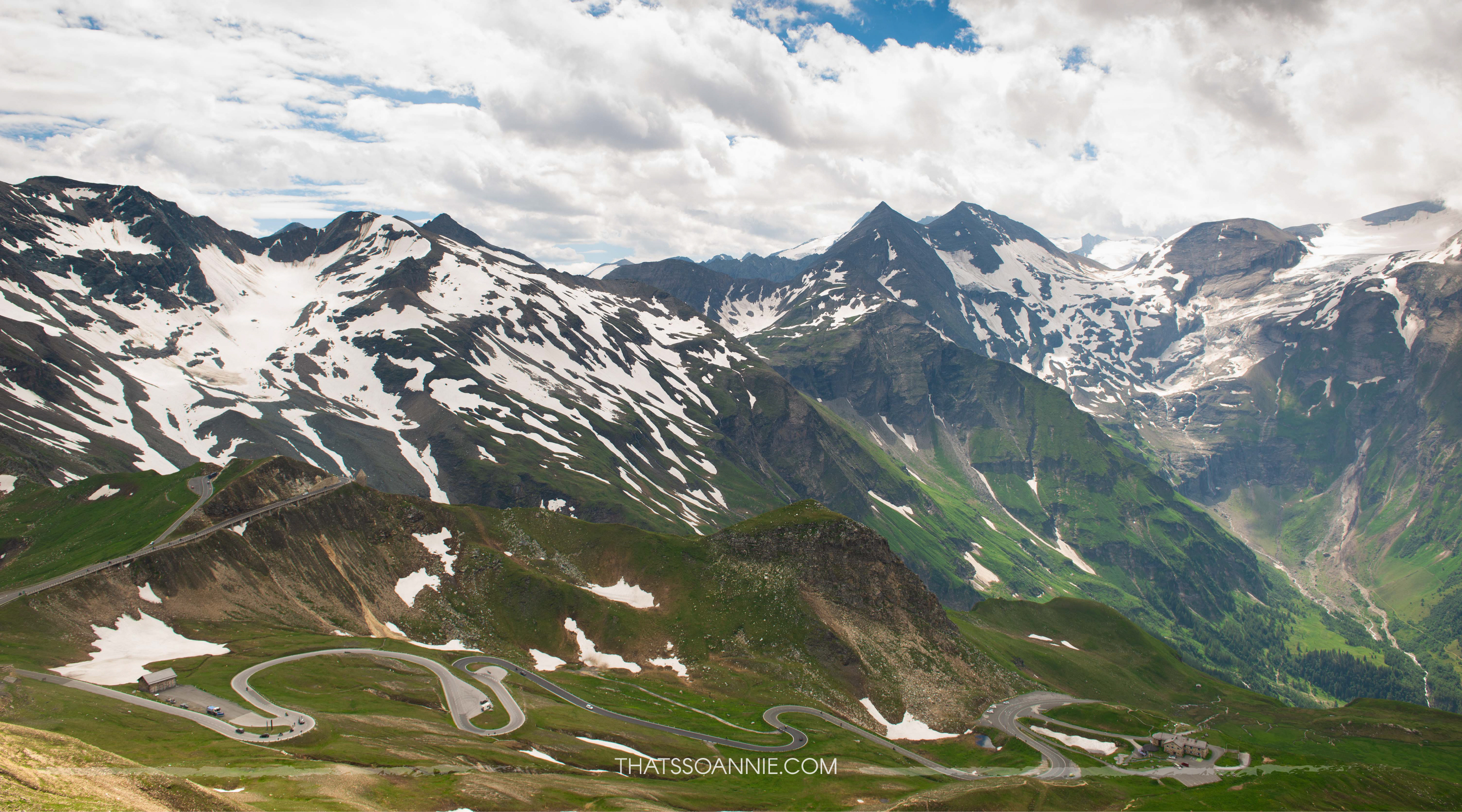 There is much more to do once you are done taking in the views from Edelweiss-Spitze – you could carry on forward to take a peek at the Pasterze Glacier from the Kaiser Franz Josefs Höhe lookout point; you could pick any of the many hiking trails in this entire region, ranging from an easy couple of hours to longer full-day hikes; or you could go lunching at restaurants dotting the way ahead. There is much to do, but we opted to just linger around at Edelweiss-Spitze, FaceTiming with our parents (yea since Iceland, this has become sort of a thing every time we are on the road hah!), and just generally carrying on with one of our everything and nothing conversations. We had planned to be back in Hallstatt to catch the sunset once again, hoping to find more dramatic skies than we had had last night.
In no time at all (really about 2.5ish hours) we were back in Hallstatt. Unfortunately, the sunset was ..meh (photographers are picky like that), but we couldn't care less. It had been a long but fulfilling day, and it is hard to come down from spirits like that. We packed up our stuff and walked back into the village marketplace, fully expecting it to be barren like yesterday, but instead finding all the locals out and laughter and beer flowing freely at the village's one tavern (coffee shop that doubles up as tavern after hours? who knows??)
We ended the day with pizza and beer at Marktbeisl Zur Ruth. The pizza was delicious and the beer was cold, by now the sky has turned this deep shade of indigo it is just before the stars come out, there was a bit of a chill in the air despite the heatwave, and in that moment.. everything was just perfect.
Love and light,
Annie
P.S.: This is completely out of order for all those 2683 pending travelogues lying in my drafts, that I had *planned* to put up. But like I do irl, I simply went for the best of the lot to start the reminiscing with. More to follow… maybe? 🙂