Let me just say it upfront: if you are in Czechia, you cannot miss visiting Český Krumlov. In fact, I would go so far to say that you could even skip some of the overrated tourist destinations in Prague for more than just an idyllic day in this gorgeous south Bohemian city (and UNESCO World Heritage site!) instead.
Český Krumlov has all the makings of a fairytale town you would likely read about in storybooks that start with 'Once upon a time…' and ends with '...and they lived happily ever after.' A beautiful castle built on a cliff that overlooks the town at its feet and the rolling green-yellow countryside; a gently flowing river that snakes its way through the hills into this town; narrow, winding cobblestone streets; cute little colorful houses with charming doors and windows you will want to capture on reel; and those iconic orange-tiled Czechia rooftops.
This is THE postcard town you fall in love with at first sight, come to life.
Getting to Cesky Krumlov
Cesky Krumlov is about 100 miles south of Prague. Even though I read a few accounts of bad roads (and shady cops), we chose to drive because this town was going to be just the first of our many stops on this road trip. It took us about 3 hours to get here from Prague, with a couple of stops along the way. The other and the more popular way to get to Cesky Krumlov is to take the bus or the train. Both options are cheaper and will also take about the same amount of time.
Contrary to what I read, the roads were pretty decent, and we did not hit any hitches. As the urban landscape of Prague falls away, and you really start noticing the countryside, it strikes you how pretty those rolling hills and pastures of green are!
Things to Do
Explore the Castle
Like every medieval town (I write as if I have been to many, which is decidedly not the case hah!), the centerpiece of this town is the towering castle built on a hill on the banks of the river. The castle is about 800ish years old. It even had a moat running around the castle that had a bear in it (apparently this was a ~thing~ with European castles back in the day, however I am at a loss to understand why the poor animal has to live through this in 2019? It does look well-fed, so I guess that is something?)
You have free admission to the sprawling castle grounds and gardens that surround the fortress, however you have to pay a small fee to explore the interiors of the castle itself which include portrait galleries, a theater and a museum that houses regal artifacts from the previous residents of the castle. You could easily spend an entire afternoon just exploring the grounds, but we skipped that for the next best thing to do in town –
Climb the Castle Tower
I have to say I did not expect castle tower to be so… colorful? The castle's crowning jewel is an elaborate watch(?) tower that you can climb as part of your ticket (check prices and the various tours offered here). You have to climb 162 steps of a creaking wooden staircase (don't worry, it is safe) to get to the top. You will be greeted by the picture-perfect panoramic view of the classic orange rooftops of the village and the snaking river from the top of the tower!
On your way out of the castle, don't forget to explore the souvenirs stalls that dot the gates featuring glass spun using medieval glassblowing techniques, strange and wonderful things fashioned by blacksmiths and jewelry!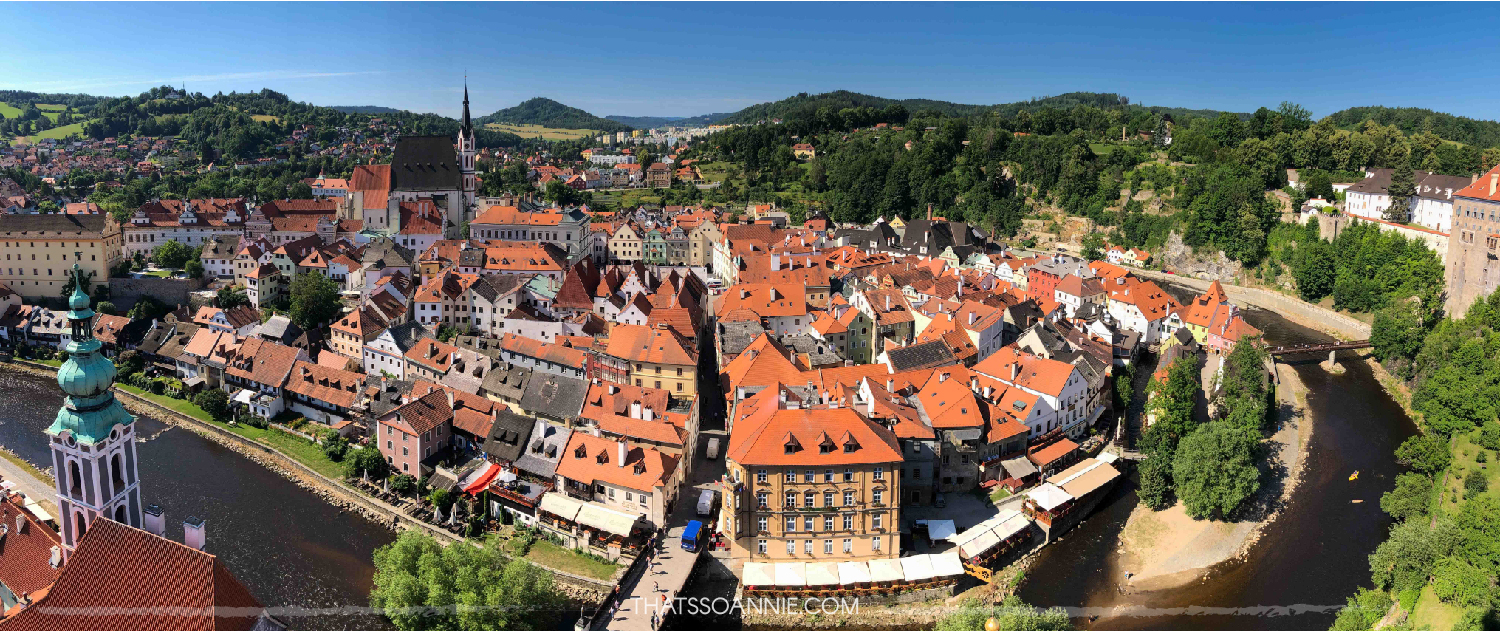 Chill in the Town Square
All the winding cobblestone alleys lead to the Svornosti Square situated in the heart of old town. The ancient buildings that line the square are now hotels and open-air dining establishments, musicians are found playing their instruments next to the water fountain to small admiring crowds, and the entire place seems alive with old-school magic at sundown (at sun-up it seems super touristy hah!) No matter when you visit, this square remains lively, even in the later hours when the tour buses leave and the rest of Cesky Krumlov turns into a ghost town. You could just sit here simply to take in the sights and experience time at a standstill.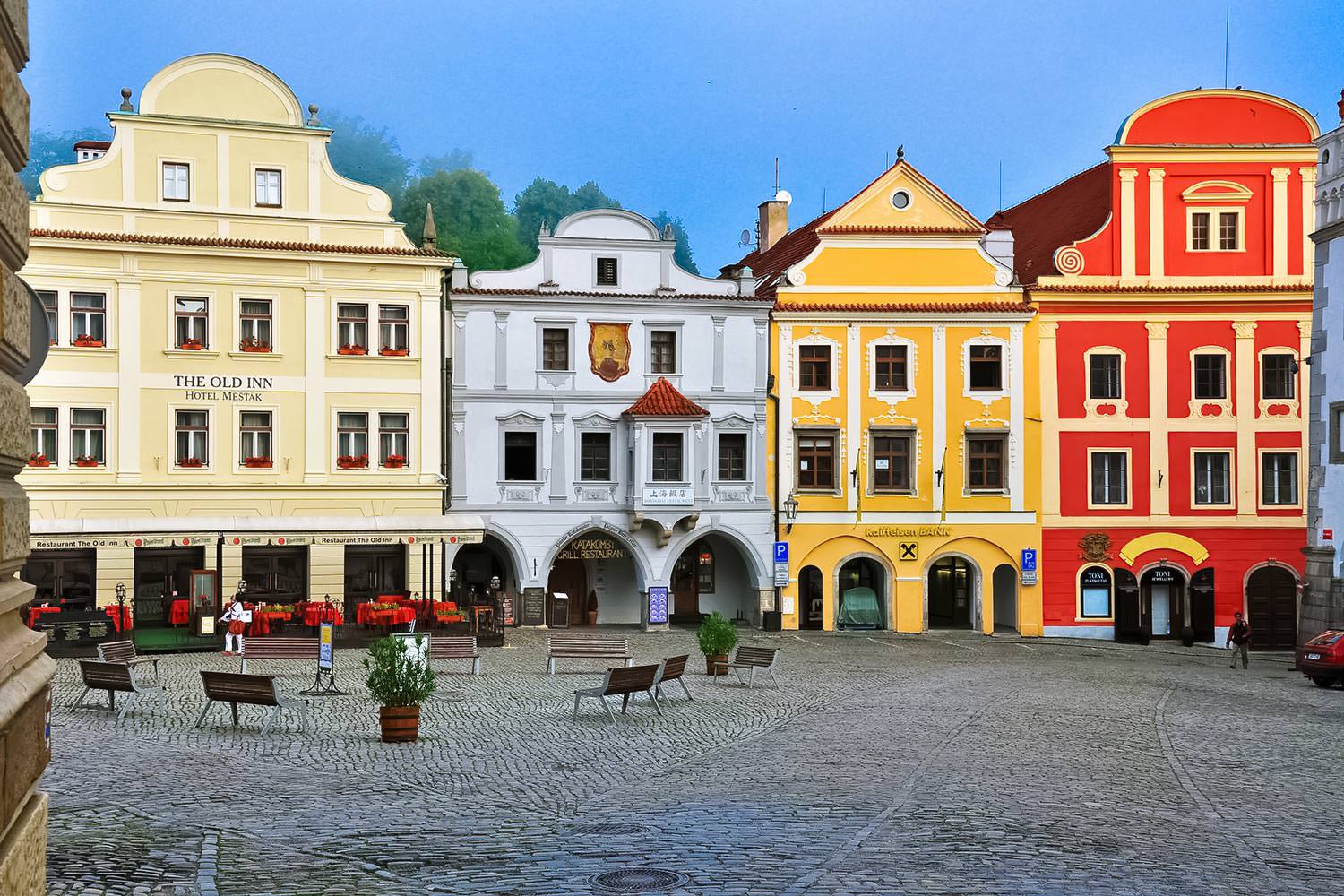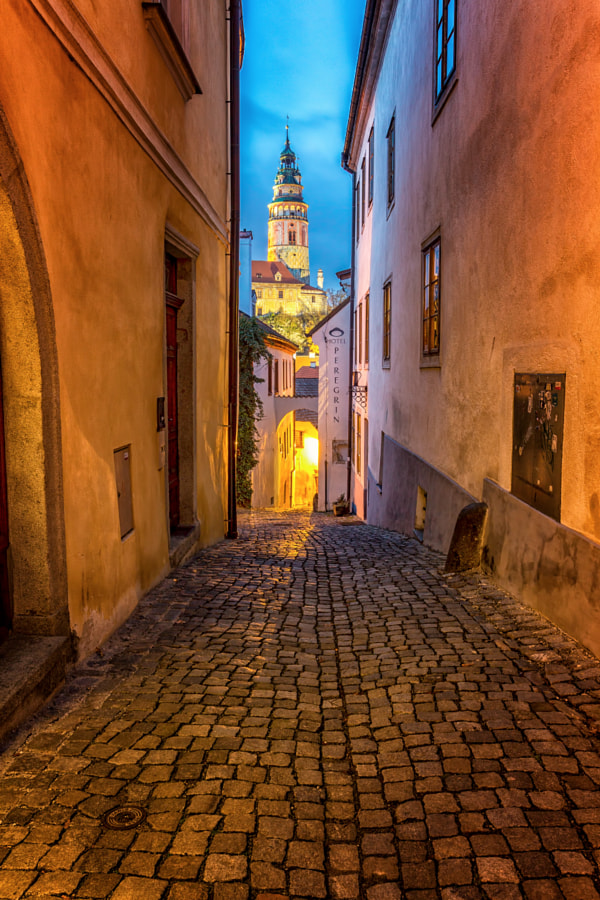 Raft the Vltava
Now we didn't do this, but we spotted (and heard) plenty of tourists rafting their way down the Vltava river on the hot summer day. This, weirdly, is one of the top things to do in Cesky Krumlov (we would have but just didn't have the time to do it). Local tour companies are a dime to a dozen, offering adventurous boat tours to nearby villages and the river rafting thrill for the adventure-seekers!
Tips!
Stay after hours. We arrived just as the last of the tour buses were pulling away, so our very first experiences with the town were calm and serene, while watching the sun go down with a handful of people. It was the next day that we realized just how many people make a stop here (with good reason but… jeez)! If you can, stay after hours to really see the magic unfold.
Skip the tours and go for a walk instead. This town is so small, I would recommend just walking around yourself instead of tagging alongside those massive tours we saw up and about during the day (really they were so huge and I saw more than a few ??? faces). You can even treat yourself to a trdelník after all the walking and that's always a plus isn't it? 😉
Bring cash because very few places accepted credit card payment while we were here. Weird but true.
You will likely have to park outside the town if you drove in. There is very limited parking in town, most already occupied by residents. This isn't a hardship though and it won't take too long for you to walk back into town after parking away.