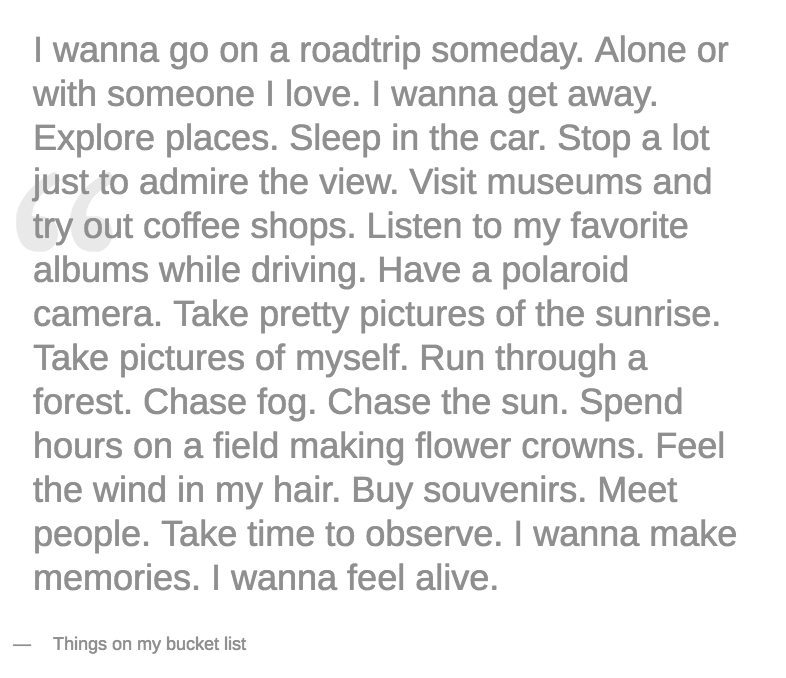 A while ago, buried somewhere deep in the backwaters of the Internet, I came across this quote by an anonymous Tumblr user. The words made me nostalgic for something I hadn't even experienced yet. It was odd (and yet it was not) to already know what it would be like to really feel alive in the way described. To go on a road trip, explore places unknown, sleep out of a car, take polaroid pictures, drive to places without a plan and make memories to last for a lifetime. None of that lets-drive-5-hours-to-a-new-town sort of adventure, something grander and much more exciting, the one for the books.
Little did I know, that nothing in wildest dreams, nothing my overactive imagination could possibly cook up, would scratch the surface of what going on a road trip around one of the most gorgeous places on the planet would feel like. What falling in love with this idea of wanderlust the same way you'd fall in love with a person, would feel like. 🙂
We decided to book tickets to Iceland on a whim. On an idle summer day sitting at Princeton Public Library, and after browsing through a couple of jaw-dropping (quite literally!) pictures on a photography site, I texted the guy, "I have an exciting trip proposition for you. Iceland." to which he simply replied, "let's go!" and things just snowballed from there.
Without digressing too much (let's leave the wanderlust love for a separate post and get to the adventure in this one) here is our 8 day Ring Road itinerary for anyone who wants to experience the most of Iceland. And because I do not really fancy short and sweet, bullet point synopsis, each of these days link to a detailed travelogue for that day. I hope you enjoy revisiting these memories with me! 🙂
(Click on the image for a full travelogue about that day + Google map directions!)
Reykjavík — Ólafsvík
Stops at: Borgarnes, Búðir, Arnarstapi, Hellnar & Djúpalónssandur
Total driving time: 3 hours and 18 minutes

DAY 2: CLOUDY WITH A CHANCE OF RAINBOW (AND LIGHTS!)
Ólafsvík — Hofsós
Stops at: Kirkjufellsfoss, Stykkishólmur, Hvitserkur, Sauðárkrókur
Total driving time: 5 hours and 26 minutes

DAY 3: LET'S GO FOR A LONG DRIVE.
Hofsós — Heiðarbær
Stops at: Akureyri, Ljósavatn, Góðafoss, Húsavík
Total driving time: 2 hours and 51 minutes

DAY 4: THE GEOLOGICAL WONDERS OF THE NORTH!
Heiðarbær — 

Egilsstaðir
Stops at: Grjótagjá cave, Hverfjall, Námafjall, Viti Crater Krafla, Dettifoss
Total driving time: 3 hours and 44 minutes

DAY 5: THE DAY FULL OF BEST DECISIONS!
Egilsstaðir — Eyjolfsstadir
Seyðisfjörður, Vattarnes, Breiðdalsvík
Total driving time

: 3 hours and 25 minutes

DAY 6: ICEBERGS AND DIAMONDS. 
Eyjolfsstadir — Skaftafell
Stokksnes, Jökulsárlón Iceberg Lagoon, Diamond Beach
Total driving time: 3 hours and 16 minutes

DAY 7: OF ALIEN PLANETS AND THE LAST ICEAGE!
Skaftafell — Þingvellir
Vatnajökull National Park, Svínafellsjökull glacier hike, Fjaðrárgljúfur, Vik, Reynisfjara, Dyrhólaey Arch
Total driving time: 4 hours and 41 minutes

DAY 8: THE GOLDEN CIRCLE AND ALL THAT WE MISSED.
Þingvellir — Reykjavík
Diving at Silfra, Geysir, Gullfoss, Flúðir, Seljalandsfoss, Skógafoss
Total driving time: 4 hours and 41 minutes

DAY 9: SAYING BYE TO ICELAND IN REYKJAVÍK.

~ Annie.