Ólafsvík — Hofsós
Kirkjufellsfoss, Stykkishólmur, Hvitserkur, Sauðárkrókur
Total driving time: 5 hours and 26 minutes
.
Last night was a disaster. I woke up with a start in the middle of the night, and scrambled around in the darkness to grab my phone out of habit (by which I mean slapped my hands about because there was ZERO space to actually "scramble around"). It took a second to realize that the van was shaking – actually swaying from side to side – and that the sound of rain and thunder wasn't coming from my phone but from outside. (I use an app called Relax Melodies to fall asleep to ambient sounds, my favored one being that of rain and thunderstorms… and this wasn't it!)
I must mention that I have never actually been camping before. Perhaps this is completely normal and expected, but to say that it scared the beejezzus out of me would be a mild understatement. I was afraid that the van was going to tip over because in my mind, a van that was carrying two human beings and that much luggage was NOT supposed to sway in the wind. The guy continued to snore on, blissfully unaware of my middle of the night freakout. I decided that I was NEVER going to road-trip again, fabulous sights and experiences be damned. Furiously updating my Facebook and Snapchat about aforementioned freakout, I finally managed to fall into a fitful sleep sometime in the wee hours of the morning. Luckily I woke up to a rainbow and that instantly cheered up my grumpy and sleep-deprived self. 🙂
After a quick breakfast we left Ólafsvík and got back onto Road 54. It was still cloudy and drizzling but we could see patches of bright blue skies ahead. With fingers crossed for a better day than yesterday and to the soundtrack of Coldplay, we drove on towards the waterfall Kirkjufellsfoss.
Not long after we'd hit the road, I spied a pretty roadside cliff edge with a stunning view of the Atlantic Ocean and just had to stop to take picture (spoiler, this will happen a LOT haha). The ocean looked endless and deceptively calm. A couple of daredevil sheep grazed on the steep cliff slope and we watched fascinated as they leaped over loose rocks. They did eventually come off the edge to safety when it started to drizzle and watched us with curious (annoyed?) eyes.
Eventually we realized that we had spent an hour already on what should have taken just twenty minutes to get to Kirkjufellsfoss.. and we weren't even there yet! The drizzle had also brought a steady fog rolling in and being stuck on a cliff edge did not seem very wise.
We got lost trying to find the waterfall and instead ended up at the Google location of the mountain Kirkjufell. We only realized we were moving in the wrong direction when the road abruptly ended in a fence simply marked "Prison". Oops? 😛
We followed the new correct directions to Kirkjufellsfoss, one of the most popular and most photographed waterfalls of Iceland. While it is tiny compared to the ones that came later, it is quite pretty and easily accessible. Located right off the main road is a small parking lot and a short walk later you are at the waterfall. Kirkufell lies across the road from the waterfall and makes for a beautiful backdrop for a picture of the trademark three streams of the falls. 
I was starting to piece together the Icelandic words and their meanings at this point so I knew Kirkufellsfoss meant "Church (kirk) Mountain (fell) Falls (foss)". After we left this site (and driving at a reasonable speed) we had our first encounter with the famed "suicidal sheep" of Iceland. It's true. Icelandic sheep are a whole new level of hardcore and seem to not understand the concept of death by vehicle. ALWAYS keep an eye on the road because sheep? Cute. Having a near-heart attack at the idea of accidentally killing one and possibly yourself too?! Not so much. 😐
We made our way onward to the picturesque fishing village of Stykkishólmur which looked like it belonged on a postcard. We opted for an early lunch at Sjávarpakkhúsið (they had some pretty amazing seafood!). Trying local beer is always one of our top to-do's in new place and now finally had the opportunity to try the Icelandic local ale called Einstök (meaning unique). I really enjoyed this beer (and I loved that Viking logo!).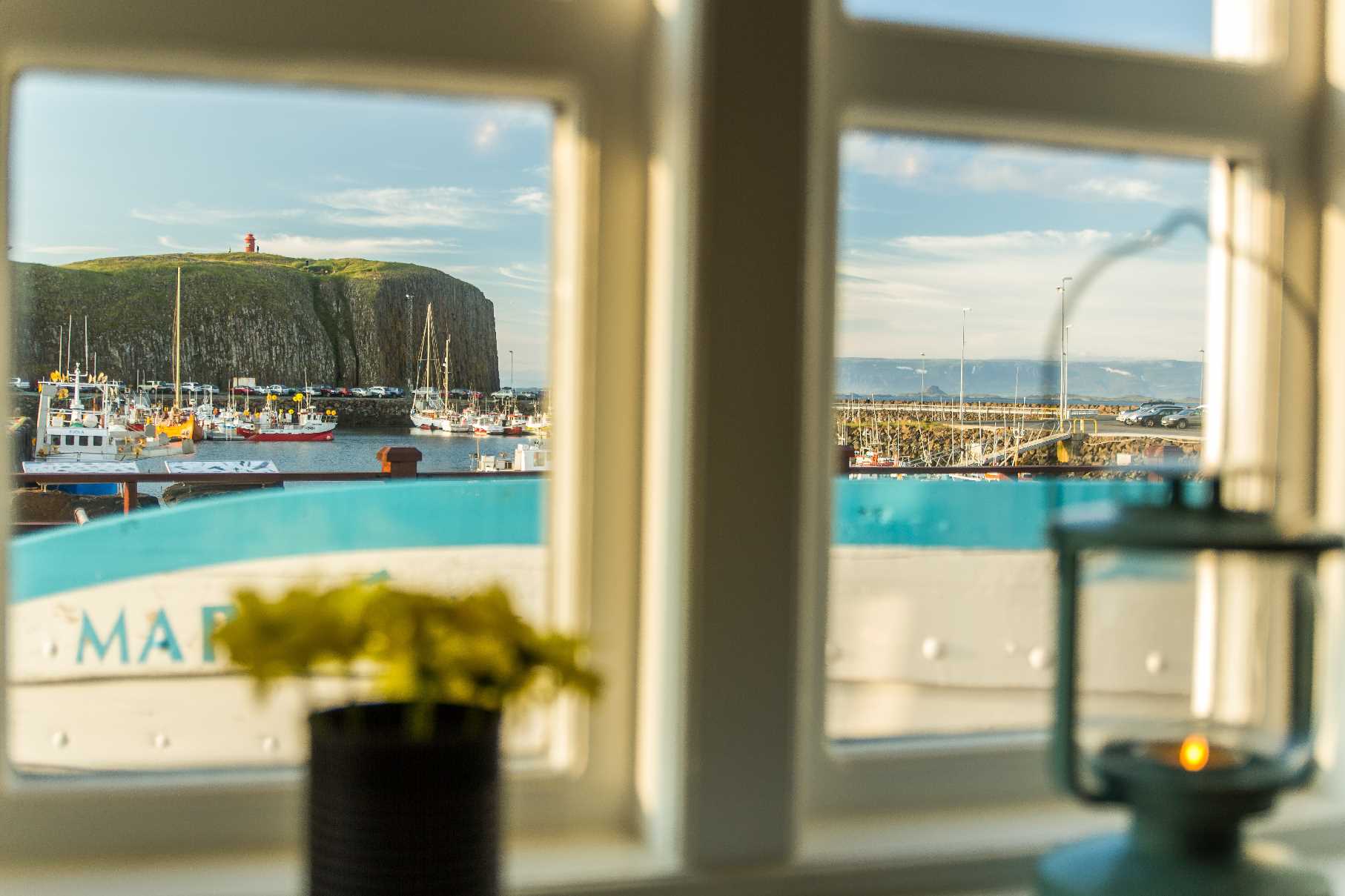 Once we left Stykkishólmur, we had 3 hours of uninterrupted driving from the extreme west towards the northwest. Road 54 meets Road 60, which if you have the time, will take you to the least explored part of Iceland, the Westfjords. Only 2% of travelers make the trip here. Since we were short of time, we skipped this detour and headed east on Road 59 towards the northwestern region of Iceland.
#Protip: If you do plan on exploring the Westfjords, add at least 2 extra days to your itinerary. Must-do's include watching the local birds at the tall cliffs of Látrabjarg (the western-most point of Iceland), exploring the beautiful cascading waterfall Dynjandi, hanging out at Ísafjörður (the largest town in Westfjords), checking out the museums at Hólmavík and watching seals at Hestfjörður and Vigur Island.  Directions from Reykjavik and back here.    
Just before we got onto the Ring Road, we found ourselves driving down on a straight road along a peninsula of water when a HUGE double rainbow curved over the water (featured image at the beginning). The double rainbow was so huge that we couldn't fit the entire thing in a single photograph! I had never actually seen a rainbow end-to-end like this before and for two whole minutes I couldn't stop squealing in delight at it! 🙂
After a bit of drive along the Ring Road, we got onto Road 711 towards Hvítserkur, a basalt rock formation just off the seaside. Legend has it that this rock is really a troll petrified by the break of dawn. How cool! 
We found the parking lot easily enough but the area was overrun with weeds and ferns of all kind, and it took some wading along the cliffs edge to get to the "scenic point" (a wooden platform where you could have a panoramic view of Hvítserkur). In typical Icelandic fashion, the cliff edge does not have any railings so keep an eye out and stay well away from the cliff edge.
Once the sky turned a deep navy blue, it was time for us to head back out towards the town of Blönduós and get to Sauðárkrókur (where we hoped to camp for the night). We arrived at the Sauðárkrókur campsite and discovered that while they had hot showers, there was no community kitchen. 🙁 We had to cook our food in the open using the propane stove we had rented and it would have been a fun experience if it weren't for the freezing weather!
Once we were done with dinner and the utensils were cleaned and put away, we decided to drive around the town for a bit. According to our research there was going to be aurora activity tonight, and we were eager to check it out. The town of Sauðárkrókur had too many street lights, so we decided to head towards the outskirts of town. We found a spot off the road a few miles away and switched off all the car lights and waited in the darkness.
I felt really foolish in the beginning because I had no idea WHAT to look out for. We let our eyes adjust to the absolute darkness, as we spoke to each other in whispers like we were out on a secret mission. 😛 After fifteen minutes of seeing things that were probably not there (thank you over active imagination), the guy exclaimed that the wisp of "cloud" he was watching just moved like a wave. I thought he was imagining it but just to be sure, we took a picture of the night sky by positioning our camera over the dashboard of the car. To my utter surprise, this is what came up on our camera screen!
We were finally convinced that SOMETHING was happening and we should probably head out even further into the darkness. Excitedly we drove out towards the nearby campsite at  Hofsós, which was about half an hour away.
There was only one another camper van parked in the huge camping ground when we pulled in. The town looked like no more than 10 people lived there. We set up the tripod and played around with some settings, trying to capture the Northern Lights. There wasn't much to see in real life because the aurora could easily be mistaken as clouds, but it was exciting to see the pictures light up on the camera screen with the vivid green and purple. 🙂
Within no time at all, a cloud cover rolled in completely obscuring the sky forcing us to finally turn in for the night. Overall, we were pretty happy and satisfied with our first glimpse of the Northern Lights (and now we knew exactly how to photograph them!). We couldn't wait to experiment over the remaining nights in Iceland.