"Some things are hard to write about. After something happens to you, you go to write it down, and either you over dramatize it, or underplay it, exaggerate the wrong parts or ignore the important ones. At any rate, you never write it quite the way you want to."

― Sylvia Plath


It took wayyyyy too long to put this post together (oops!) but I had to do it before the year ended, after all this has been one of the most incredible trips of this year. Honestly, I have been staring at this blank page for about five minutes, thinking of a good way to summarize how incredible (and grand and stunning and all sorts of amazing and..) this new adventure was. It would seem that I can't, so let me just skip this part.
I first came across Machu Picchu, the purported Lost City of the Inca's, in a book I had as a kid. I did not have too many books growing up, but I had this set of hand-me-down 'Tell Me Why' encyclopedias that was very precious to me. In these books I discovered the secrets of ancient civilizations, and I remember wanting nothing more than to visit every single one of these places when I was older (these books were also the reason why my first serious ambition was to be an archeologist). This summer when a couple of our friends decided to do the hike the Inca trail to Machu Picchu, we decided to bite the bullet and go grab that dream.
Now to be clear, I am NOT the sort of person who goes hiking. Sure, I've road-tripped not too long ago (the whole live out of a car, explore new places thing and it was awesome), but I am just not the sort who has ever walked all day long just for the experience of it. I wasn't sure I had the physical or mental capacity to do so, or if I would even enjoy it. Turns out, no, I in fact do NOT have the physical capacity to do it and only barely managed, but holy goddamn did I enjoy it! 😀
The 2-day Inca Trail
Traditionally, the Inca trail requires a full 4 days of hiking. The 26 mile long Inca trail, also called Camino Inca or Camino Inka, traverses some of the most challenging of the Peruvian Andes before leading you to Machu Picchu. To know everything about this granddaddy of all hikes, head on here to read my friend Karan's travelogue. Since we neither had the time nor the inclination to do the 4 day hike, we opted for short Inca trail with a wonderful agency called Llama Path. (Seriously, I cannot recommend them enough, I would not have finished this hike without the help and support of our amazing Llama Path guides!)
No matter which trail you decide you hike, remember that the Inca Trail is subject to Peruvian government regulations, and permits must be obtained via tour companies. Because they also allow a limited number of people on the trail per day, book your spots well in advance for the dates you want to hike!
Once we landed in Lima, we made our way to the ancient capital city of the Incan empire, Cusco, which is the base of operations for all tour guides and anyone who wants to hike the Incan trail. This city is a great place to acclimatize as it lies at 3,400 m (11,200 ft) – you do NOT want to attempt hiking the trail without getting used to the oxygen levels at such an altitude. The locals recommend coca leaves for altitude sickness, and surprisingly it works!
Day 1
The day of our hike to Machu Picchu dawned way before the actual sunrise. We were up at 3.30 AM, to get to our group's assembly point at 4.30 AM. We got onto a bus with several other people and in just over an hours time, made our way to the town of Ollantaytambo to board Peru Rail to KM 104.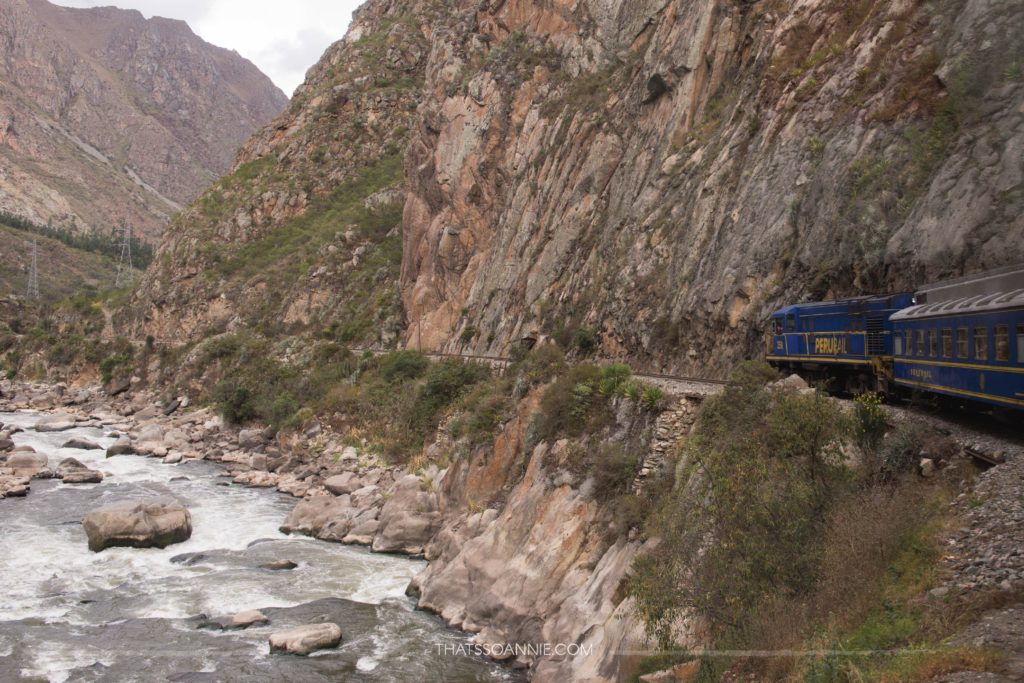 The ~2 hour train ride from Ollantaytambo to KM 104 was stunning. This was our first glimpse of the raw beauty of the Peruvian wilderness as we made our way along the Urubamba river. Peru Rail is a luxury train fitted with cushioned seats and large glass windows (and glass ceilings too!), tailor-made for you to have the best possible and luxurious view of the Andes. This train runs all the way down to the town of Aquas Calientes which lies at the base of the Machu Picchu mountain, but it makes one unscheduled stop (literally in the middle of nowhere!) to let the 2 day hikers off. There is a small checkpoint where your passport and documents are thoroughly checked and then you are off. A wooden bridge takes you over the river and you are off onto the Inca trail.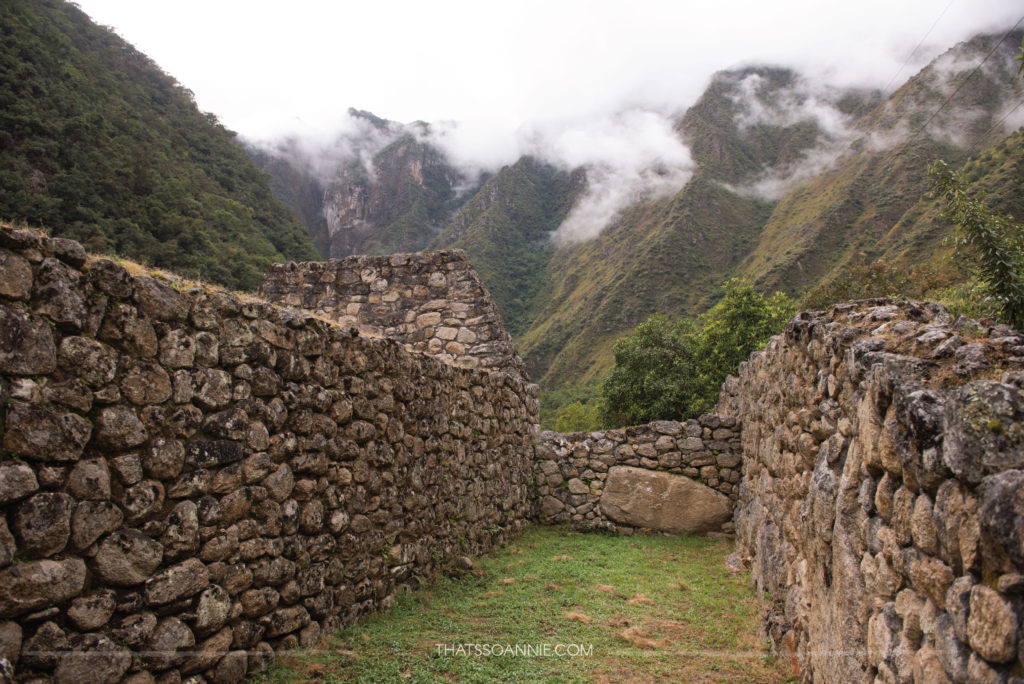 Just a couple of minutes into the trail, we came across the first archeological site of the trail, Chachabamba. There is some debate about what the purpose of this site, but the general consensus is that it was the last rest stop / shelter for the Incans who used the trail to get to Machu Picchu. It also served as a religious and administrative center.
After exploring Chachabamba for a bit, we set off onto the trail… and it was brutal. The trail steeply ascends for about the next three hours, with only a few brief level stretches in between. There are two shelters on the trail where we stopped to have a quick snack and catch our breath (admittedly I stopped a LOT more than just these two times haha). As we scaled the rugged mountainside, the view of the valley below kept getting even more spectacular around every curve. Even though my lungs felt like they were on fire and everything ached down to my very bones, I couldn't help but be in complete awe of how amazing the Peruvian Andes were up close.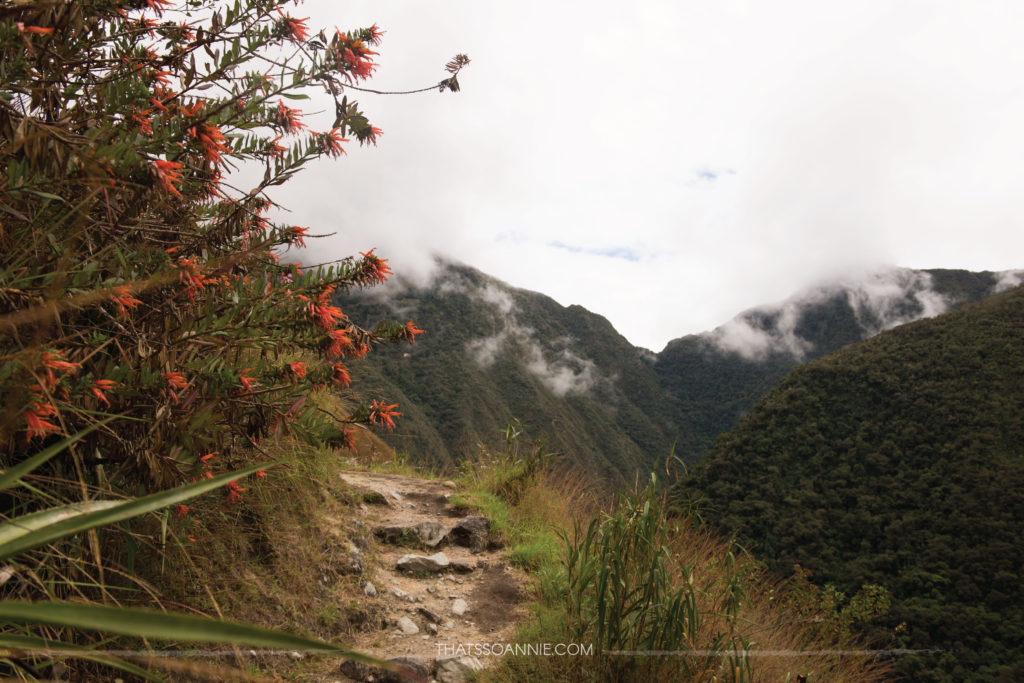 The Incan trail is almost entirely paved with ancient rocks. I don't think I have ever cursed stairs as I did that day, because they were never ending and unforgiving of our complete lack of fitness. I wondered whatever had possessed me to sign up for this, but no matter how exhausted and out of breath we were, it was impossible to ignore the beauty of the Andes around us.

The only silver lining to being unfit was that one of the guides lingered around with us and it quickly turned into a private hike where our guide, Daniel, enthusiastically chattered on about life in Peru, hiking, ancient secrets passed down as legend through the generations (for instance, porters on the overnight journey to Machu Picchu sleep with mirrors or shiny objects in their tents, because supposedly the ancient spirits come up at night in search of people who can be pulled away to the underworld) and at one point, played the iconic Eye of the Tiger from Sylvester Stallone's Rocky to encourage us to power through the pain. 🙂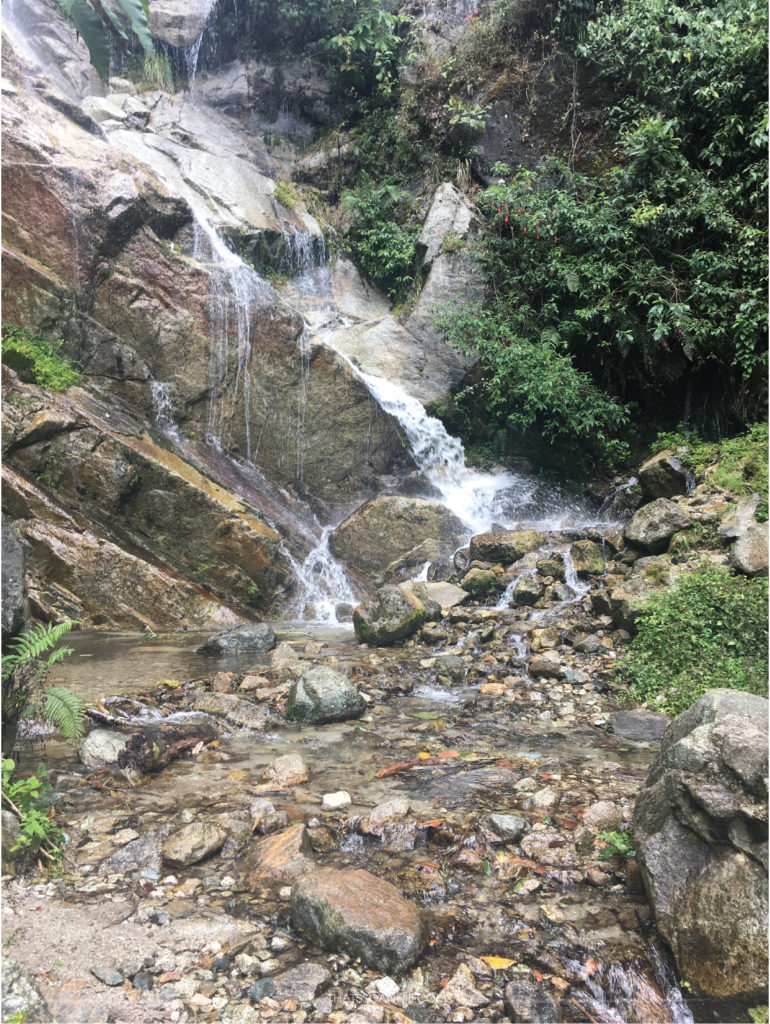 Eventually we reached a beautiful (nameless?) waterfall, and I sat on the edge of some rocks listening to the silence of the forest around us. At this point I was so completely exhausted that I just didn't have the capacity to carry on any further. Unfortunately as Daniel informed us, we were now only a few steps away from the most difficult part of the hike – climbing the never-ending stairs of the ancient Incan site of Wiñay Wayna.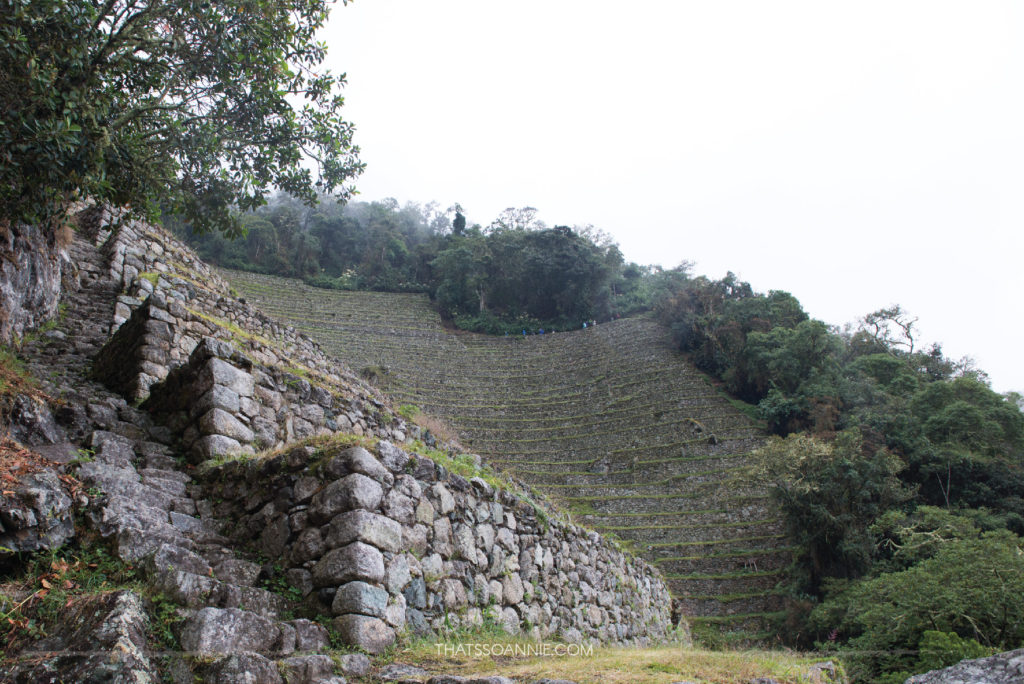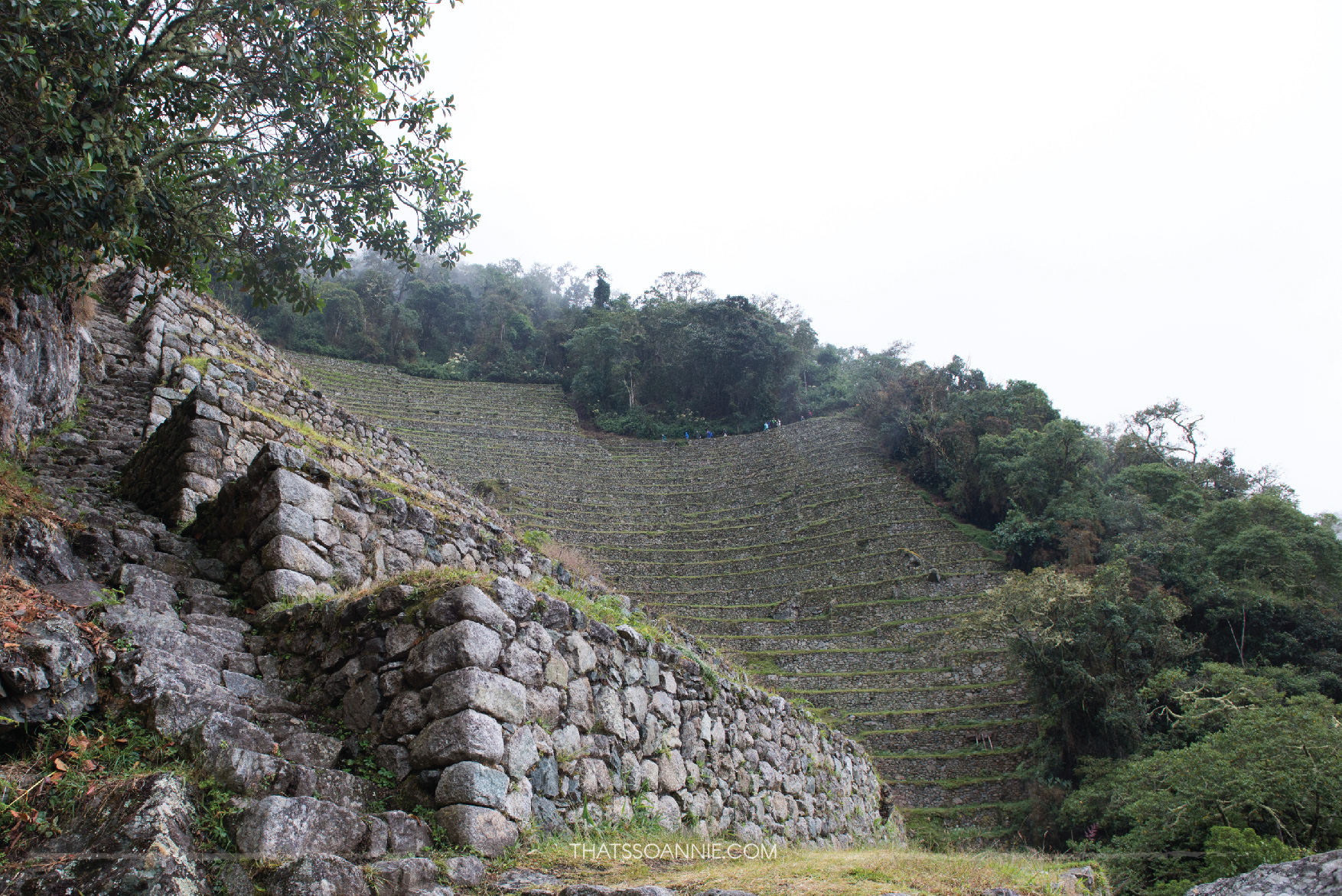 Okay, not never-ending but there are about 300 steps, but at such a sharp incline they might as well be endless for me. We started climbing slowly while Daniel told us stories of this holy site and how crucial symmetry was for all Incan architecture (just look at those perfectly placed landings!!). Unfortunately, it also started pouring at this point and Daniel literally hand-held me through the rest of the way because the steps were now dangerously slippery.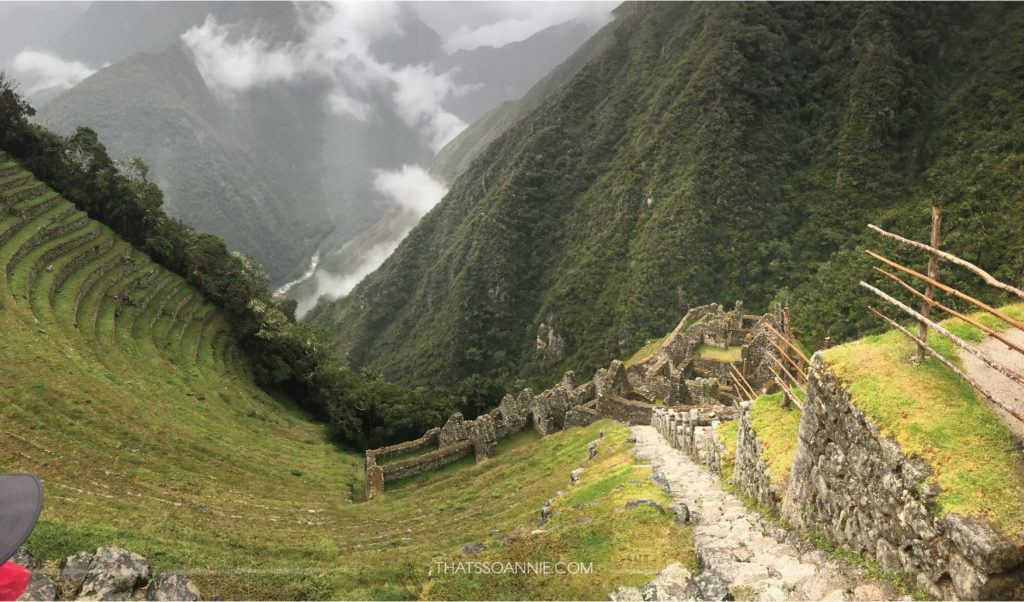 Eventually after a lot of cursing and huffing and puffing we reached the top of the stairs. The Wiñay Wayna ruins were definitely the highlight of this entire trip. At 2650 m (8694 ft), this is such a stunning, yet highly underrated Incan site! The best part is that it is almost always crowd-free (unlike Machu Picchu which is overrun with crowds on all days at all times in all kinds of weather). I wish we could have spent more time here but by the time we made it to the top of the stairs, it was pouring steadily. We moved on to the lunch site which was just a few minutes away where LlamaPath surprised us with a hot lunch of spaghetti marinara. 🙂 This is where the 4 day hikers meet the 2 day hikers, both trails now converging into a single trail towards Machu Picchu.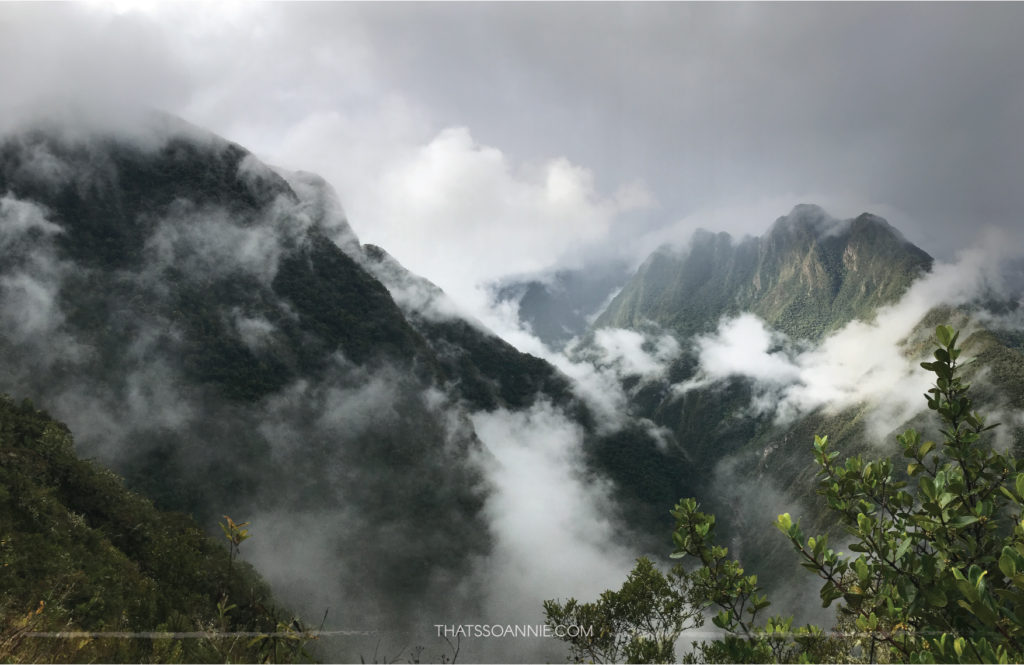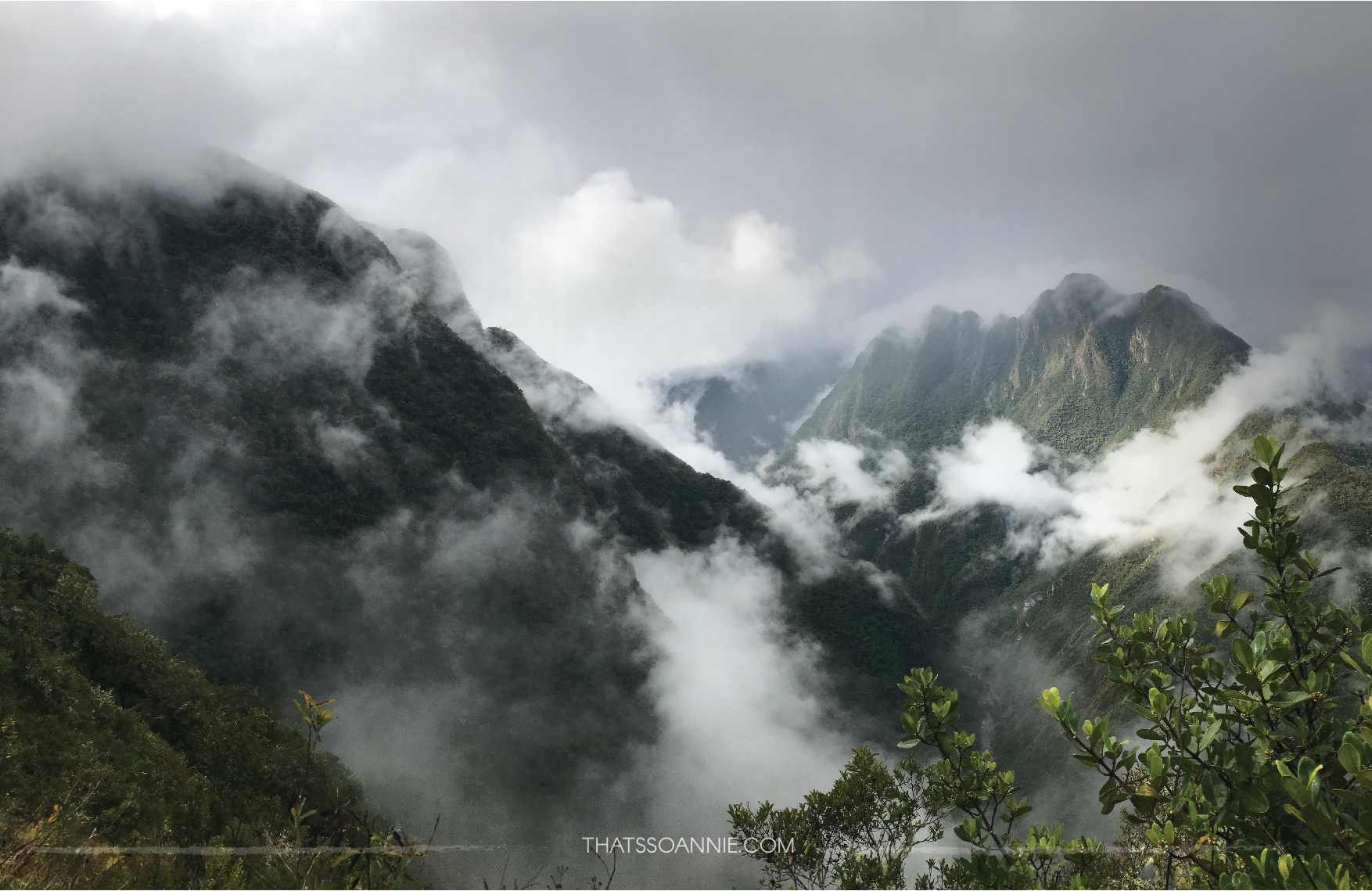 We set off after lunch towards the highest point we'd encounter in our hike, the Inti Punku ("Sun Gate"). This is an extremely famous location on the trail, where you glimpse Machi Picchu for the very first time. Crowds gather at sunrise for an amazing bird-eye view of this wonder of the world. We were excited because we were FINALLY (almost) there. Unfortunately, as Daniel informed us, we had to pass one final test, climb up one final set of stairs.. ominously named "gringo killer" or the "stairs of death".
Honestly, even though we had to literally climb on all fours up these famed steps, I thought the steps of Wiñay Wayna were much more demanding. Maybe it was the excitement of what lay before us at the end of those stairs, but it seemed like we finished climbing these steps in no time. We were finally there…. only to discover the entire valley below covered in a thick layer of fog! As if that wasn't enough, it suddenly started to pour cats and dogs, and it did not stop the entire night ahead!
It did not take long for us to be completely drenched and the cold seeping right down to our bones. Despite dangerous slippy conditions, we had to keep at our pace because the last of the buses that take hikers down to the city of Aguas Calientes from the gates of Machu Picchu departs at 5.30 PM. If we miss that bus, it was another 2 hours of hiking down a steep mountain in the pitch dark, which all of us wanted to avoid.
It was disappointing to keep our heads down as we slowly but surely hiked down to the bus stop, missing most of those panoramic Machu Picchu views that we had only seen in wallpapers and were eager to capture of ourselves. Because of the water, I was forced to stuff all devices inside my backpack, including the chargers, and only had my GoPro recording until it too eventually died. :/
Finally, we found ourselves on the bus that swerved wildly as it made its way down to Aguas Calientes in the pouring rain and the thick fog. About 20 minutes later, we got off the bus and walked on yet again to get to our hotel. By this point, I was beyond the point of exhaustion and skipped out of the team dinner in favor of drying my shoes and clothes with a hairdryer, and getting into bed immediately after. We went to sleep hoping that the rain and fog would disappear the next day and we would finally be treated to the view we've been waiting for since the beginning of the trip.