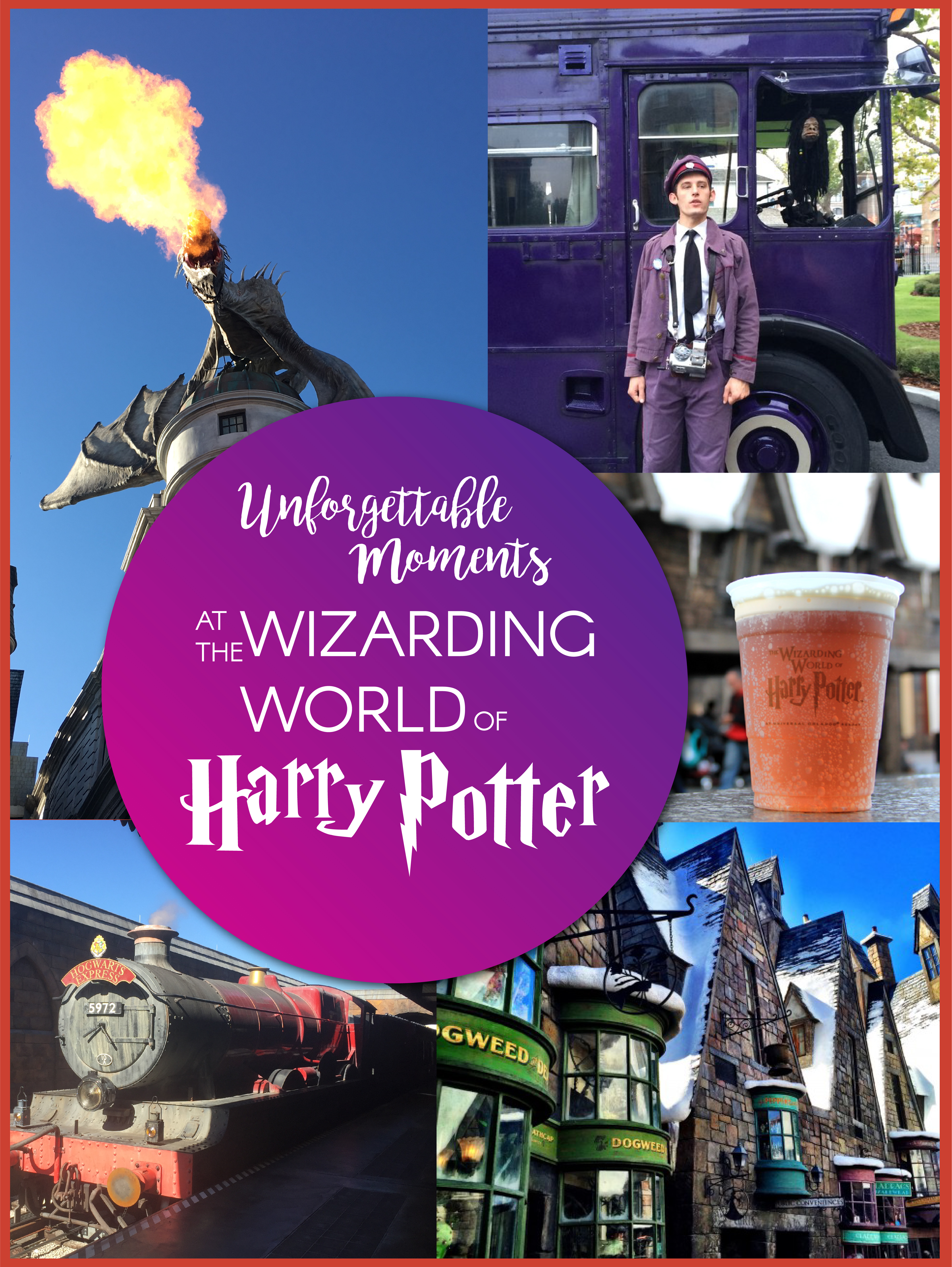 To call me a Harry Potter fan is an understatement.
I have been a part of the Harry Potter fandom for the last EIGHTEEN years. I am the original Harry Potter generation, that first bunch of kids who were the same age as Harry and who read the books as they were being published and waited anxiously to see what would come next, the first bunch who fell so deeply and irrevocably in love with the universe that we never quite recovered. 🙂
I even got proposed to with a golden snitch that opened to the words 'Will You Marry Me?' (to which I said yes). Several years and countless re-readings later, I discovered the world of fanfiction and fell even deeper in love with my fandom which now included and accepted all sexualities, disabilities, mental illnesses, ethnicities and everything else that makes life real. 
As a late 5th anniversary / valentine's day celebration, the guy and I decided to visit The Wizarding World of Harry Potter in Orlando, FL in the last week of February. I had been looking forward to visiting this park for years and I had major expectations after reading all those rave reviews. I am glad to report that the second I set foot in the village of Hogsmeade, I knew that makers of this park got everything just p e r f e c t.
Over the next three days, I cried. Several times. I have zero regrets. Without further ado, and in no particular order, here are my favorite moments from the parks:
ALL. THOSE. DETAILS!
Everywhere I looked in the park, there are details from the Harry Potter book and movie universe that left me feeling warm and nostalgic. The perfume advertisement at King's Cross mimics the one from the movie, Moaning Mrytle wails in the restroom, a bird twitters in the Vanishing Cabinet at Borgin & Burkes, the blue Ford Anglia car twitches in a small forest where the Dragon Challenge roller coaster ride is located, Celestina Warbeck and the Banshees perform "A Cauldron Full of Hot Strong Love" at noon, the entrance to Diagon Alley sits between a bookshop and a record store (just like in the book!)… okay, I need to stop or I'll go on forever.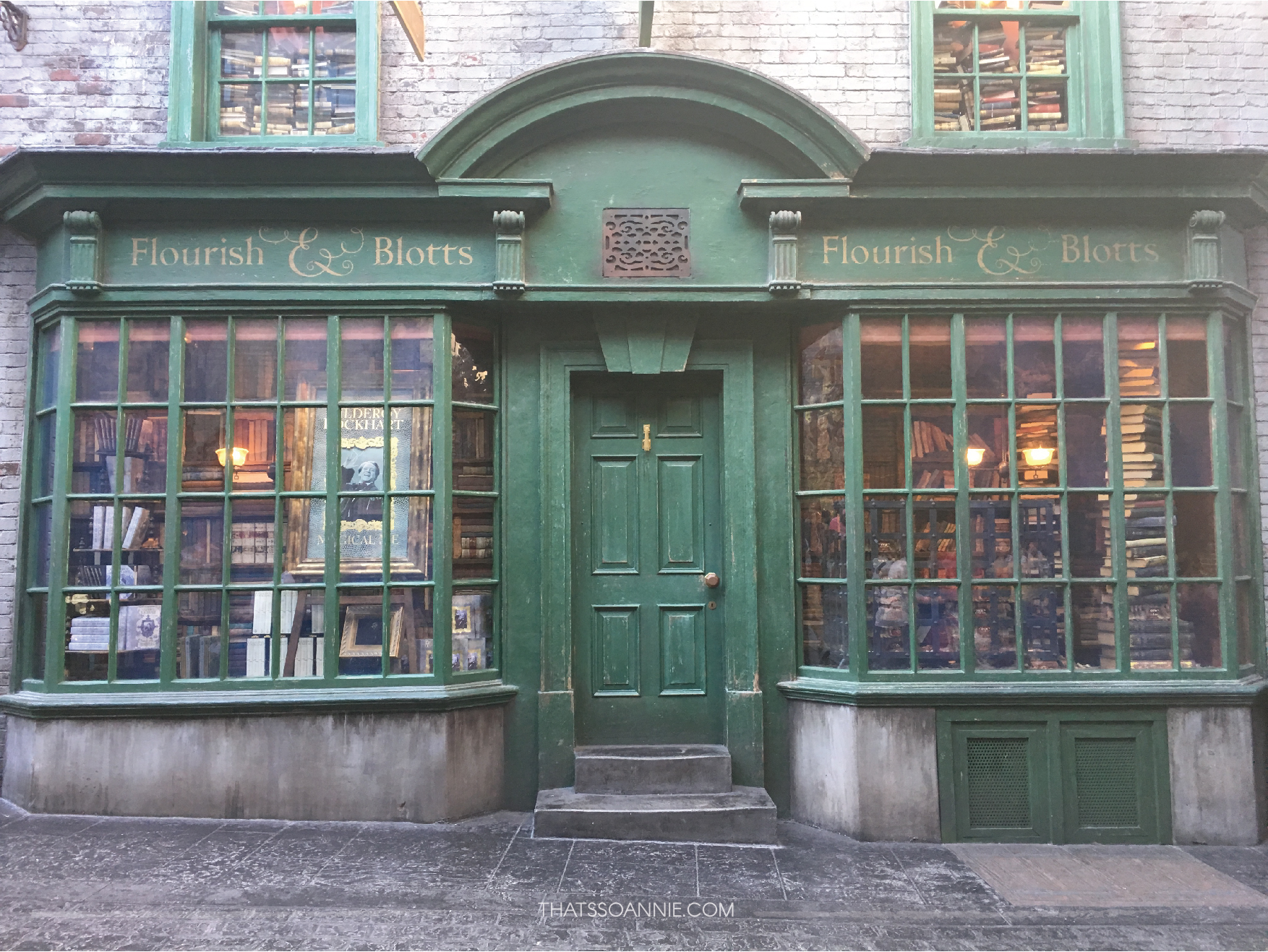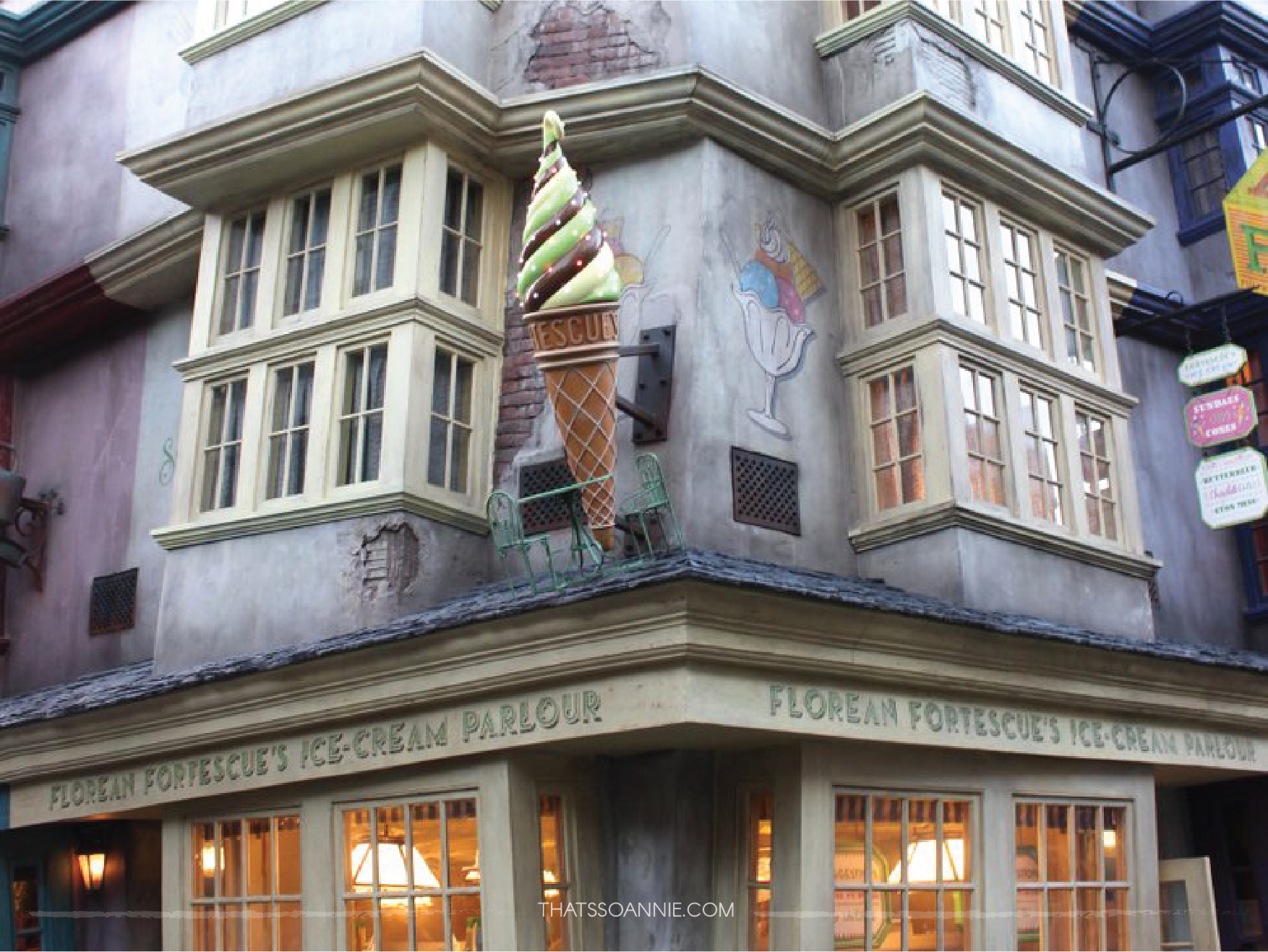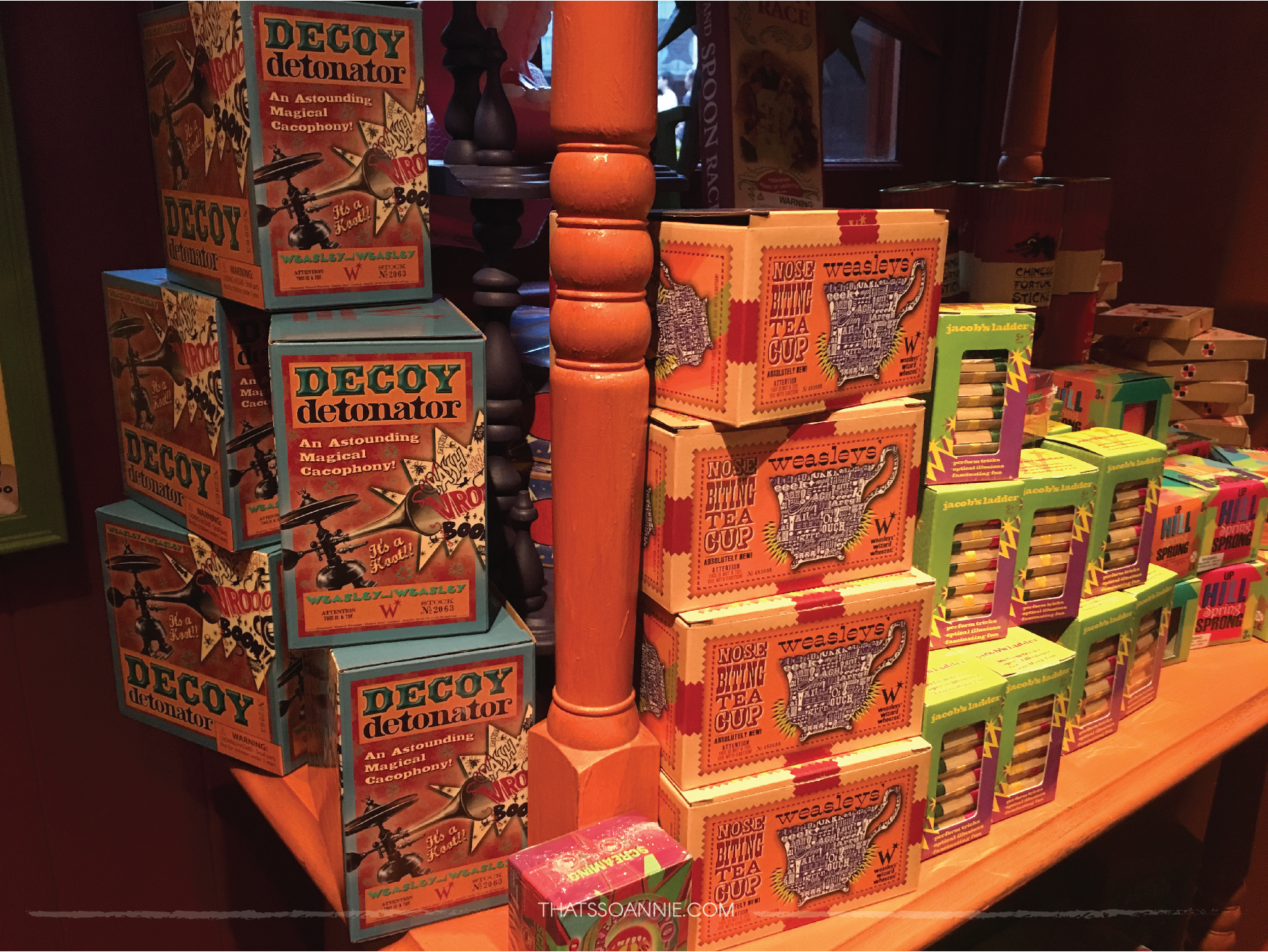 It is obvious that the creators of the park wanted the Wizarding World experience to be as authentic as possible, and they hit it straight out of the park, pun intended. You could (as I did!) spend an entire day just exploring the nooks and corners, discovering the tiny details that are sure to delight any fan. 
MAGIC WITH MY OWN WAND!
I wasn't planning on getting a magic wand when I got to the park (one of my closest friends got me Dumbledore's wand from the Wizarding World for my birthday 5 years ago, and it remains one of the best gifts I have ever received). I ended up getting Hermione's wand anyway because … IT DOES MAGIC! Interactive wands, probably meant for young witches and wizards and not old timers like myself, allow you to cast spells all over Hogsmeade and Dragon Alley. From wingardium leviosa-ing a feather in the display at Scribbulus to lighting up all the firecrackers in the display at Zonko's with incendio … I was a child hopping on sunshine, with a wand!
GRINGOTTS
The crooked building of the goblin-run bank of Gringotts is the centerpiece of Diagon Alley. And on it sits a giant white dragon, looking like it is straight out of the movie, breathing ACTUAL FLAMING FIRE every fifteen minutes! We visited on slightly chilly Orlando day, and I could feel the heat on my cheeks every time the dragon roared and everyone stopped what they were doing to snap a picture.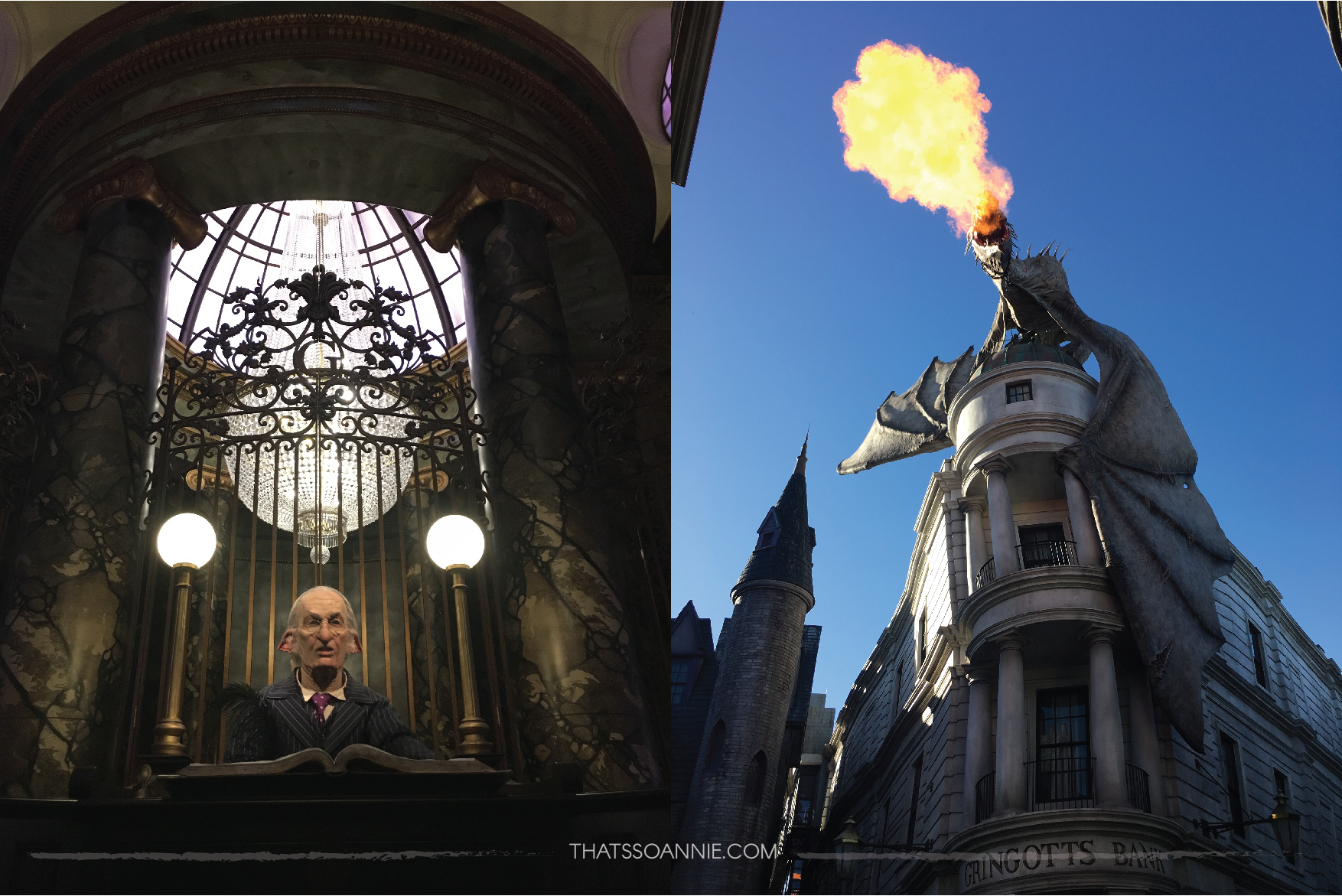 As if the dramatic outside wasn't awe-inspiring enough, the actual chamber of the bank is complete with a huge chandelier and goblins giving you the stink eye. You wind through the bank to finally step into an elevator that takes you to the carts that will take you "deep into the vaults" – but not before you see Bill Weasley have a conversation with Griphook (and see the Weasley's waving at you from the newspaper clipping of the their trip to Egypt!). Escape from Gringotts is another one of the rides with an insane wait time, but as it is with the others, it's all worth it, because the wait offers you a fun peek inside Gringotts. 
OUTSIDE THE PARK!
Understandably, visitors can't wait to get inside the Wizarding World's main attraction, Diagon Alley. But there are a few fun surprises outside the park too!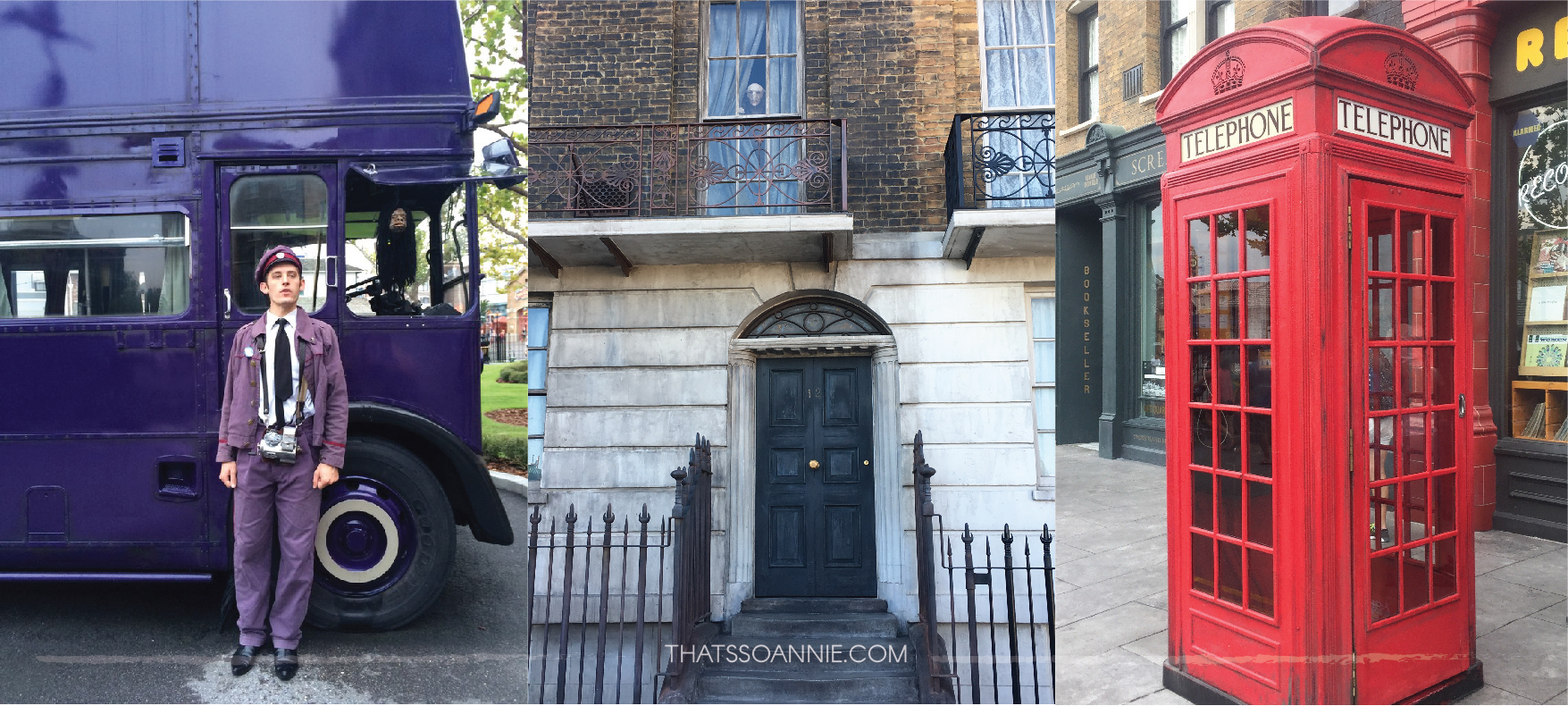 One of the best parts about the park was how park employees treat visitors as if they were actual witches and wizards (you can even talk to them about He Who Must Not Be Named!). The best of this authentic experience was talking to Knight Bus' Stan Shunpike (and the talking shrunken head), both will hold a long engaging conversation with you about anything you wish to talk about.
An authentic London telephone booth outside Diagon Alley will connect you to the Ministry of Magic if you dial 62442 (remember the pre-smartphone era where those numbers would spell out MAGIC? 🙂 ). Throughout the day, Kreacher and Walburga Black tooks turns peeking from behind the curtains at 12 Grimmauld Place. Kids kept turning up to knock on the door and running away after, I don't imagine it pleased the Black family ghosts much lol!
HOGWARTS EXPRESS
Being on the Hogwarts Express has been one of my dreams ever since I held Harry Potter and the Philosophers Stone in my hands about eighteen years ago. Do you remember that iconic cover? The bright red and black engine of the train, with steam billowing behind it, on platform 9¾ with ordinary muggle trains around.. and The Boy Who Lived. The idea of being on a train that would take me to his world, the fascinating world of magic from this boring, mundane muggle world was the most exciting thing eleven year old me could dream about.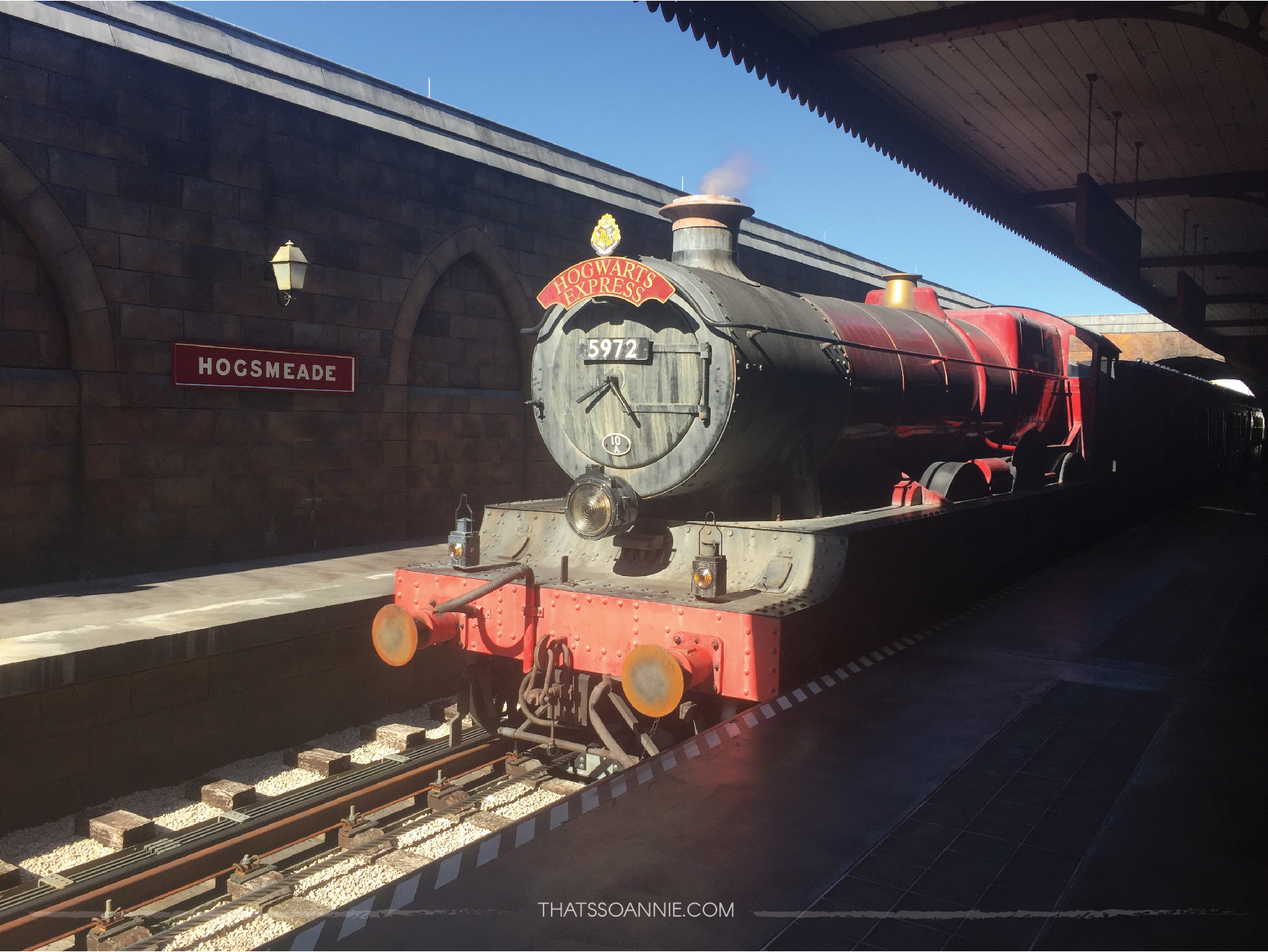 The inside of the train is a visual treat, the windows and doors of each cabin (6 people per cabin) are giant screens through which you experience.. well, going to and fro between Hogwarts and Kings Cross. Various characters greet you, the landscape changes just like in the books, even Dementors show up! I kept expecting the food trolley lady to make an appearance but I suppose there really isn't any space to have one (you can still hear the bell though). 
This was so good, we rode the train twice. 🙂  
HARRY POTTER AND THE FORBIDDEN JOURNEY.
Hands down the most unforgettable experience. This is a ride that is constructed inside the Hogwarts castle. It is a very popular ride, and wait times can go up to TWO HOURS, which sounds insane and may tempt most people to give up and leave. Don't do it, just get in line and enjoy the sights and sounds as the line winds through the Hogwarts of your dreams. The talking portraits, The Fat Lady, a talking sorting hat, Dumbledore's office, the classrooms, Herbology greenhouses, the house points hourglasses and so much more… its all there, and you will wish you had more time to take in all the sights.  
And the ride itself? It is most definitely worth it. 🙂
I'll be honest, this whole trip was an expensive deal.I don't see myself coming back anytime soon… even though I wish I could, because let's be real, there can never be enough of this park or Harry Potter. Depending upon the time of your booking, prices can range anywhere between $250 – $400 per person for the typical 2 day – 2 park combo deal which includes access to Hogwarts Express (Wizarding World is split into two locations, Hogsmeade and Diagon Alley connected by the Hogwarts Express; Hogsmeade is located inside Islands of Adventure, while Diagon Alley is in Universal Studios Florida; a special ticket is required to ride the Hogwarts Express). More details are available here.
I think that if you are even remotely interested in Harry Potter and want to splurge on a milestone birthday/anniversary or a similar special occasion (I saw at least 10 bride brigades at the park, what a fantastic idea for a bachelorette right?!), give this a go. Everyone is guaranteed to have a great time and you'll make memories for life, making the cost and the wait times and the perpetual crowds, worth it. 🙂
~ Annie.
P.S.:
(Featured image at the beginning of the post by Trevor Aydelotte, Orlanda Informer.)