Reykjavík — Ólafsvík
Stops at:
Borgarnes, Búðir, Arnarstapi, Hellnar & Djúpalónssandur
Total driving time: 3 hours and 18 minutes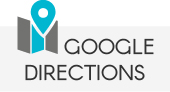 .
Our Ring Road road trip started in the Icelandic capital city of Reykjavík. After picking up our camper van from Go Campers, and stocking up on fuel and groceries from Bónus (a popular Icelandic grocery chain) we skipped exploring the capital in favor of getting immediately onto the Ring Road. Also known as Route 1, this is a national road that stretches 1,332 kms (828 miles) and connects all the major inhabited parts of the county encircling the entire island.
We set off towards the Snæfellsnes Peninsula, otherwise known as 'Miniature Iceland' given that the unique landscape here that includes everything the country has to offer, in a nutshell. Here lie exquisite lava fields, hot springs, black & gold sand beaches, volcanoes, glaciers, dramatic cliffs and a landscape that comes alive with birds during breeding season.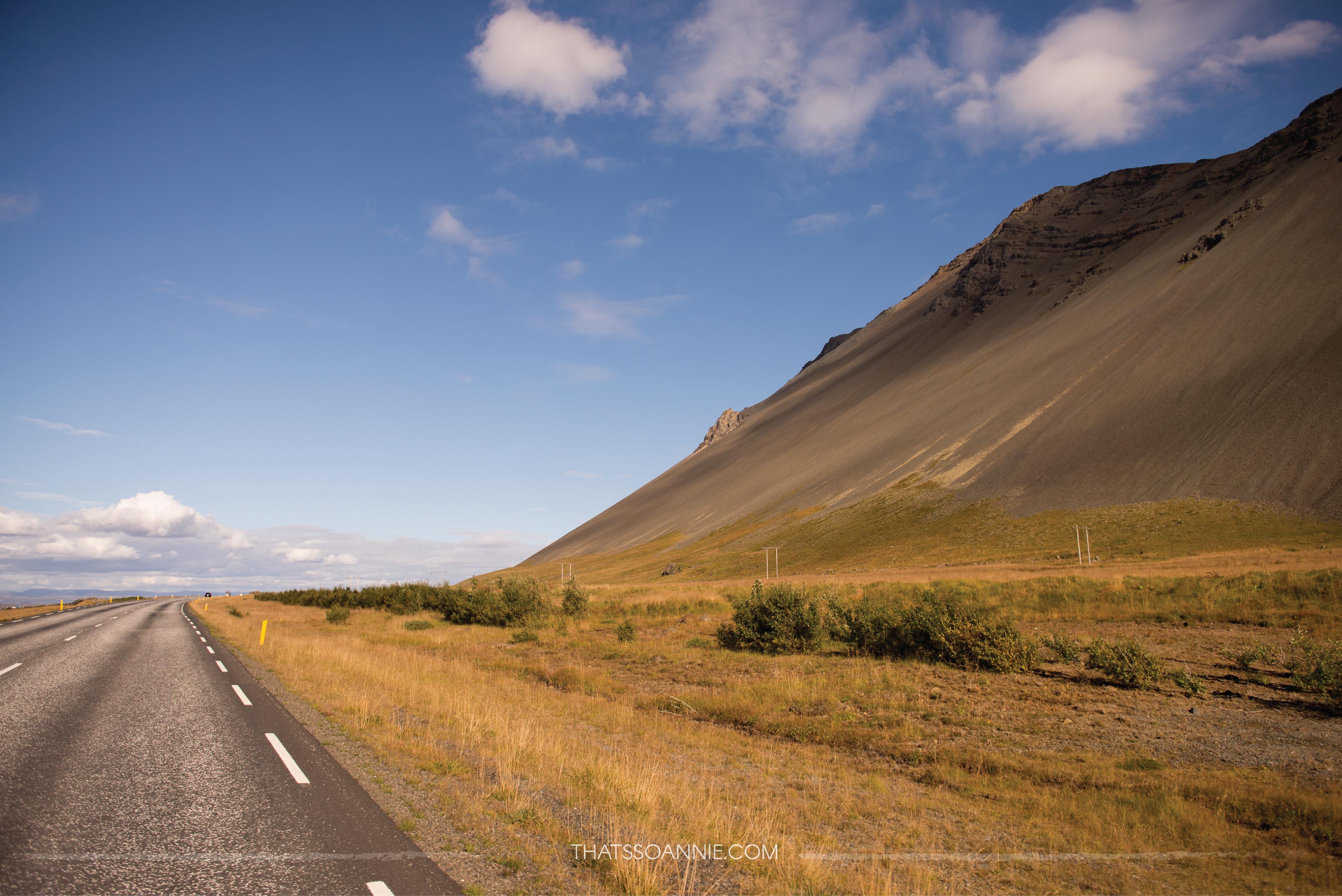 It didn't take too long once we were on the road to know that we were in a country like no other. The sprawling mountain ranges on the horizon as we cruised down almost empty roads, the quiet of the isolation from civilization and the breathtaking blue of the sky was mesmerizing! It was love at first sight… and we had only just started. 🙂
Our first stop was in Borgarnes for some quick coffee and pie at Geirabakari Kaffihus. This place is just off the main road, and over the years has become a popular pitstop for drivers along this way. They have an outdoor seating area that overlooks a beautiful lake which made the perfect setting for the afternoon snack stop.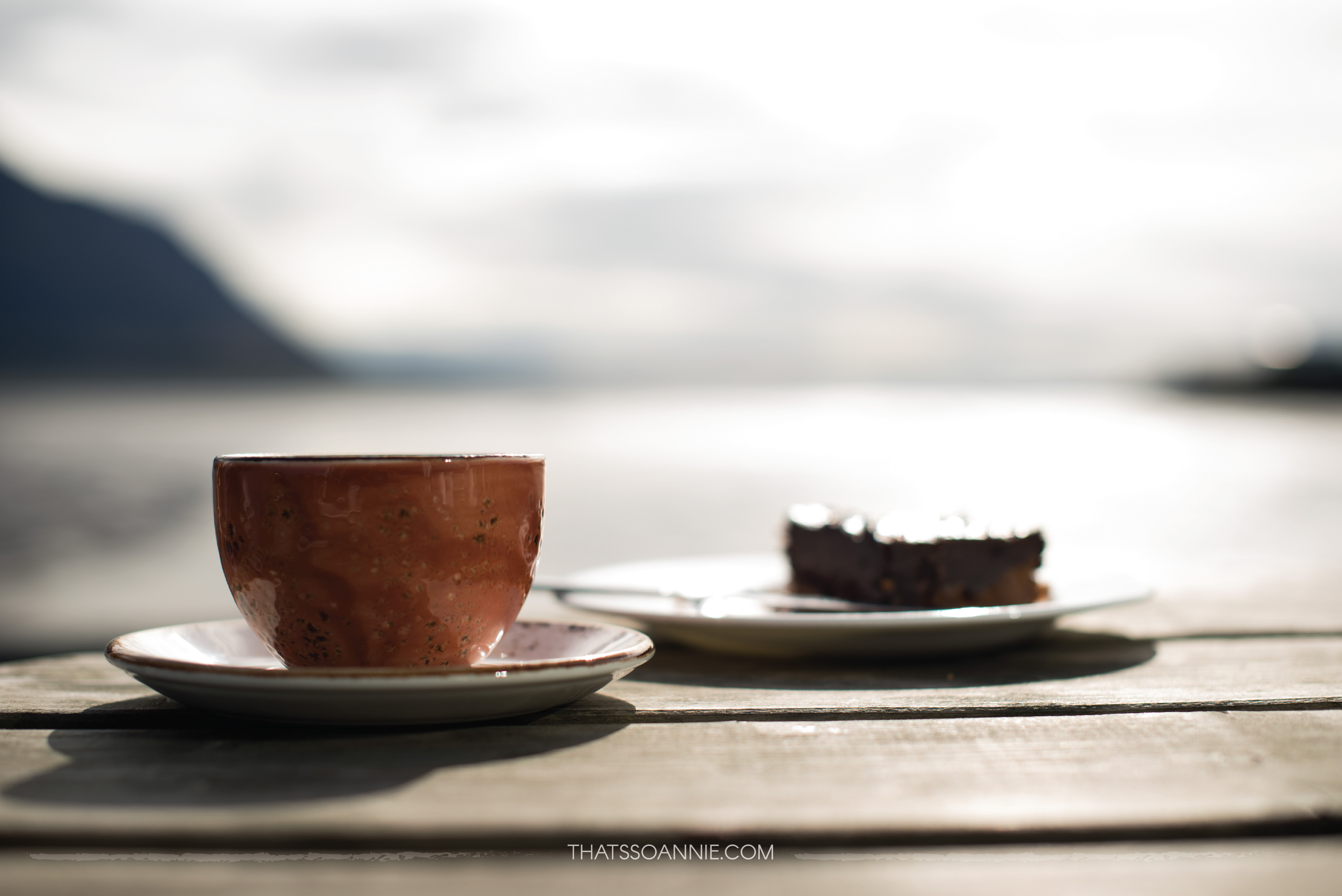 Outside of Borgarnes, we veer off the Ring Road onto Snæfellsnesvegur (Road 54), which connects all the major ports of the Snæfellsnes peninsula. Here the landscape started to get truly desolate and for long stretches we saw no other vehicle. We stopped a couple of times just to listen to the sound of silence. When we saw our first Icelandic horses grazing lazily on a roadside farm, I just had to stop and try getting a picture!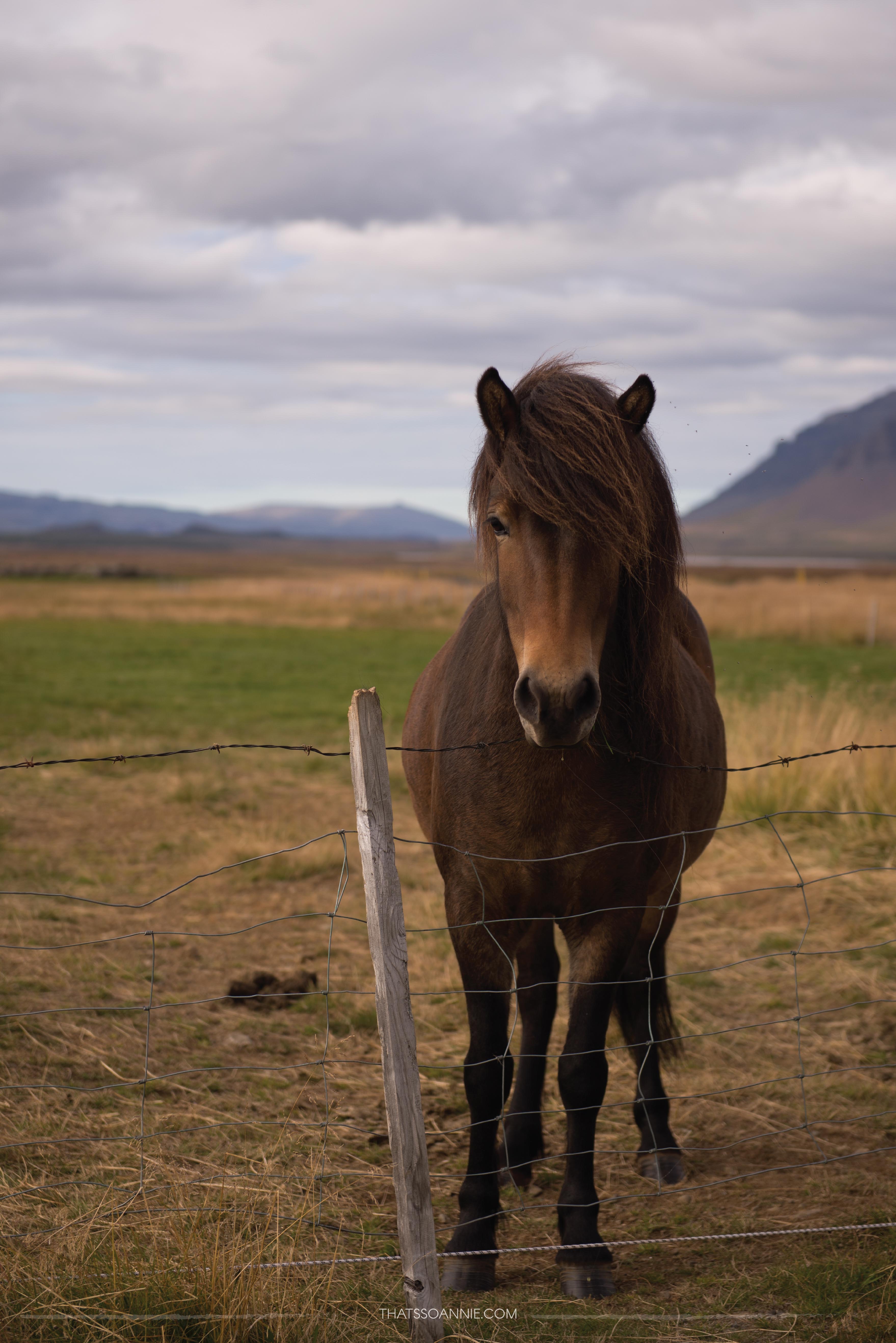 The horses started trotting towards me as soon as they spotted me at the fence. I didn't know it then, but the horses of Iceland are used to travelers and will often gather at the fences waiting for pets and occasional noms! 🙂 This gorgeous stallion stood staring at me with soulful black eyes waiting to be petted, but I was intimidated by the sheer size of him (these horses were bigger than any horses I have ever seen before!) so I stepped back a few paces and lingered around nervously.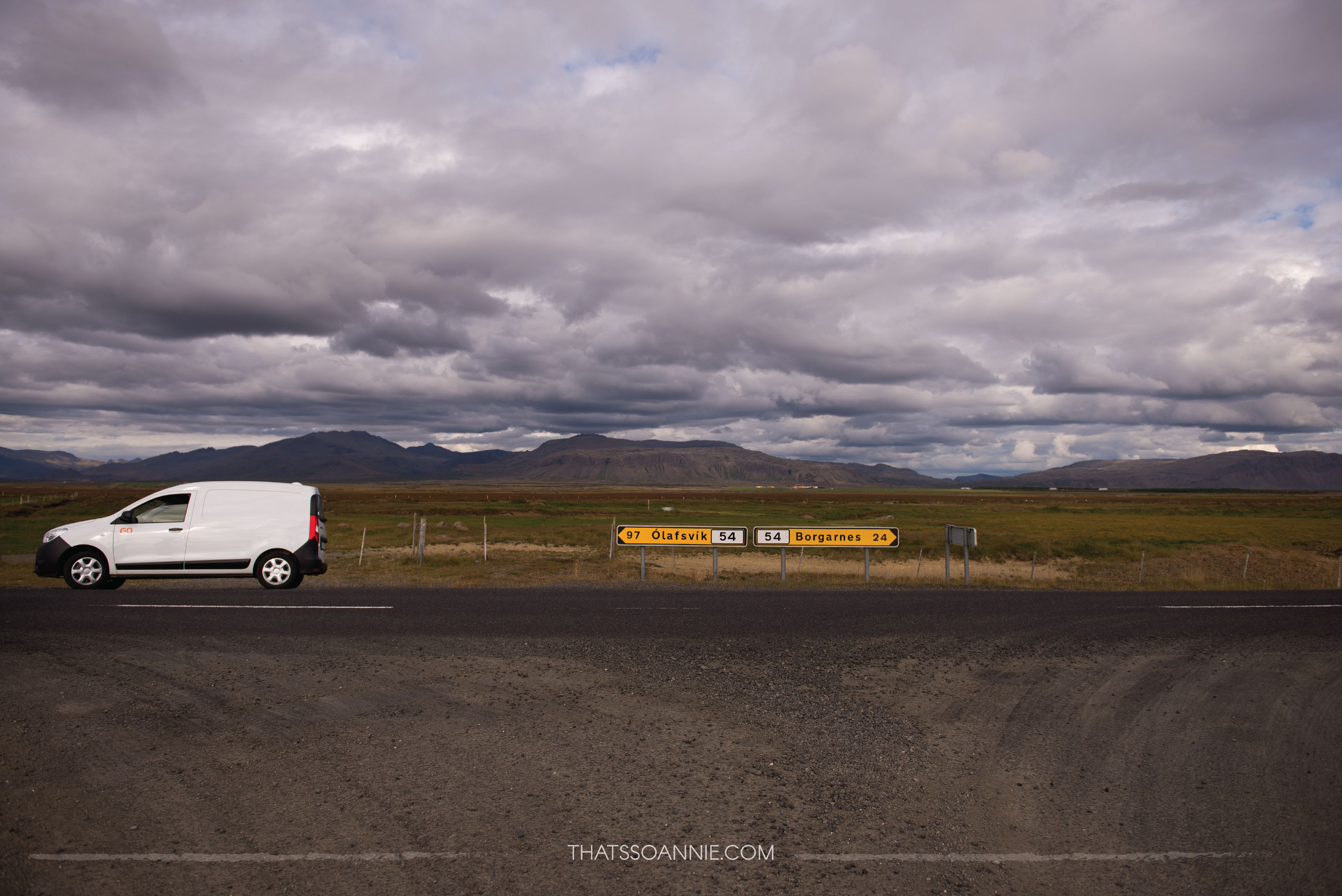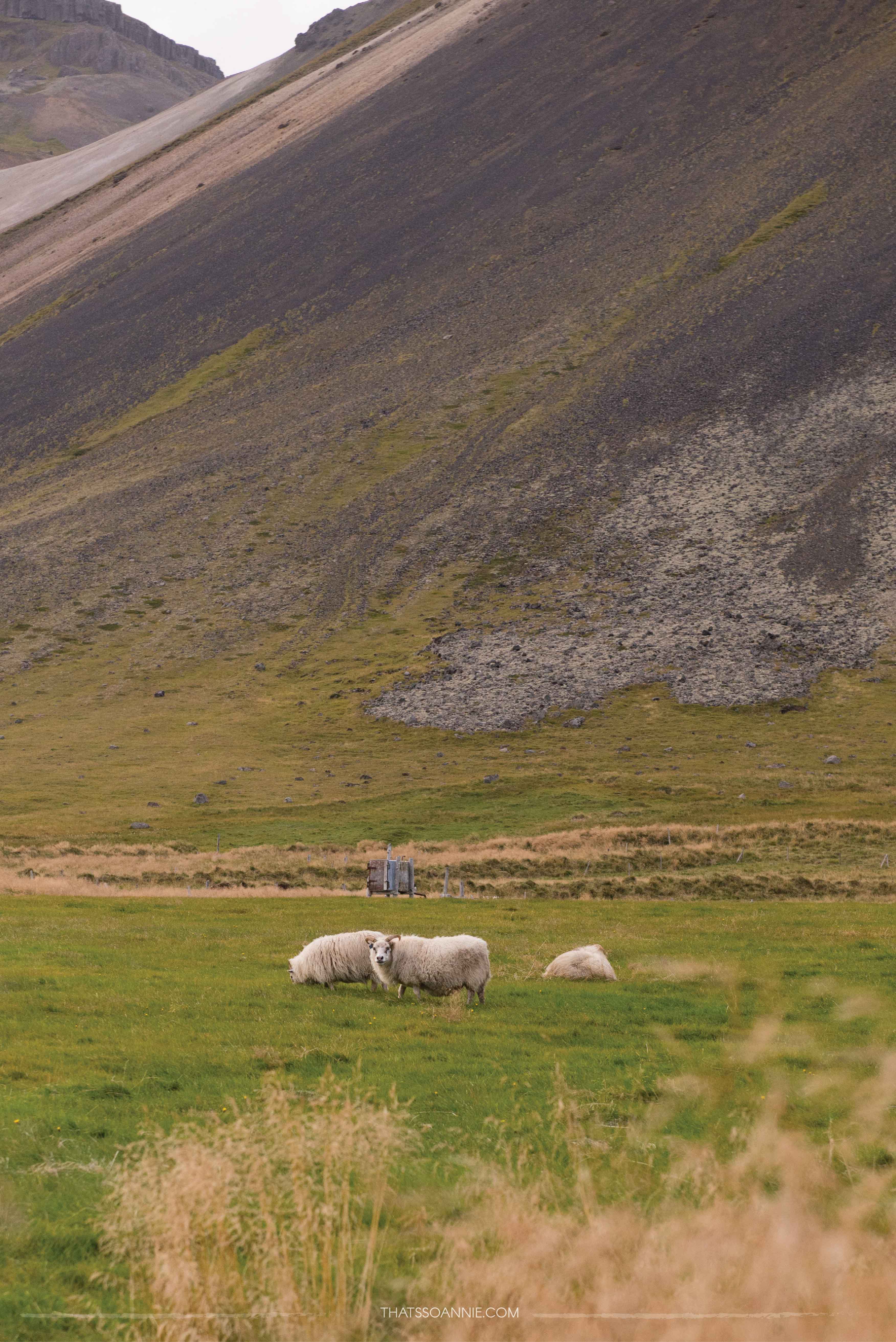 Protip: If visiting during June-July, then make sure you head out to the Ytri Tunga Beach which lies just off road 54. The beach has a thriving seal colony during the summer.
As we neared the extreme west, we headed off Road 54 onto Útnesvegur (Road 574), which takes travelers around Snæfellsjökull National Park along the coast. This national park is home to Iceland's smallest glacier, Snæfellsjökull (jökull means glacier), which lies at the summit of a 700,000 year old active volcano of the same name. It last erupted somewhere around 200 AD, so you needn't worry about any sudden calamities. I was sad to learn however that due to global warming this glacier was ice-free for the first time in recorded history in 2012. It also appears to be shrinking every year and experts predict that it may vanish within the next 50 years! 🙁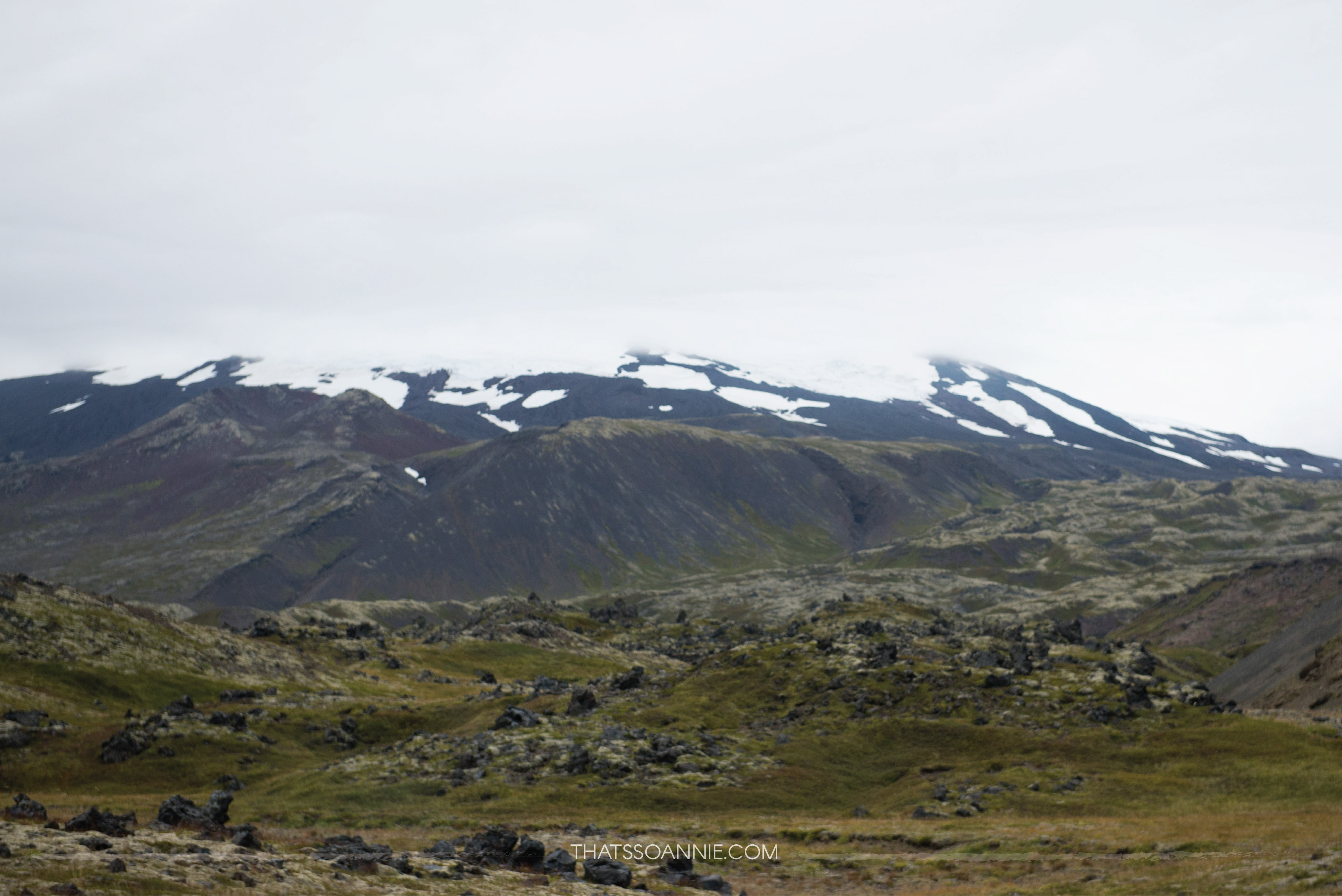 If you thought you recognized the name from somewhere, you are right.. Snæfellsjökull was the setting for Jules Verne's book Journey to the Center of the Earth.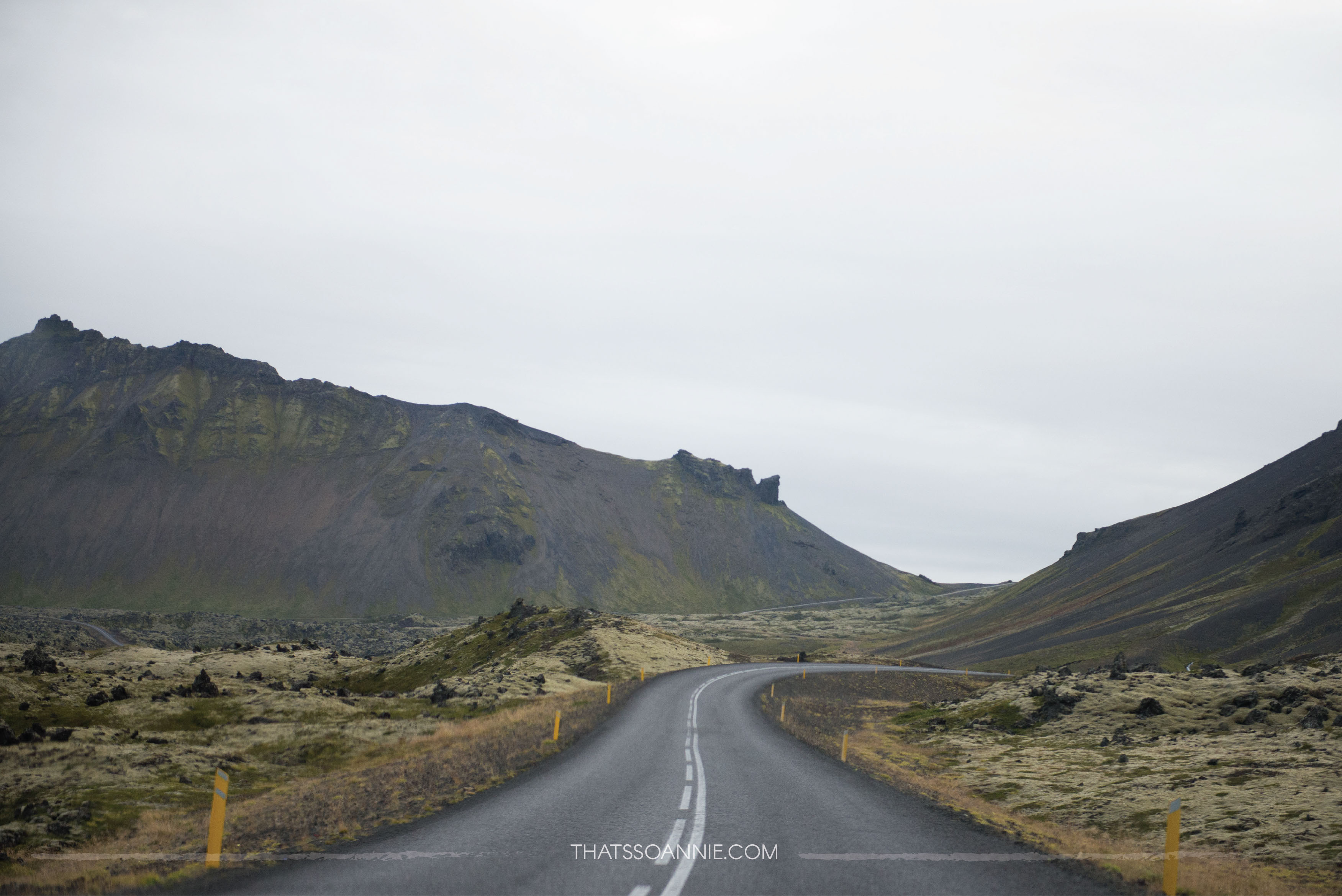 First up on this road is a pretty black church, Búðakirkja (kirkja means church), in the small village of Búðir. There was a wedding in progress among the surrounding lava fields when we drove in and it made the romantic in me all mushy inside.. what a breathtaking location to have a small intimate wedding with just your closest people! 🙂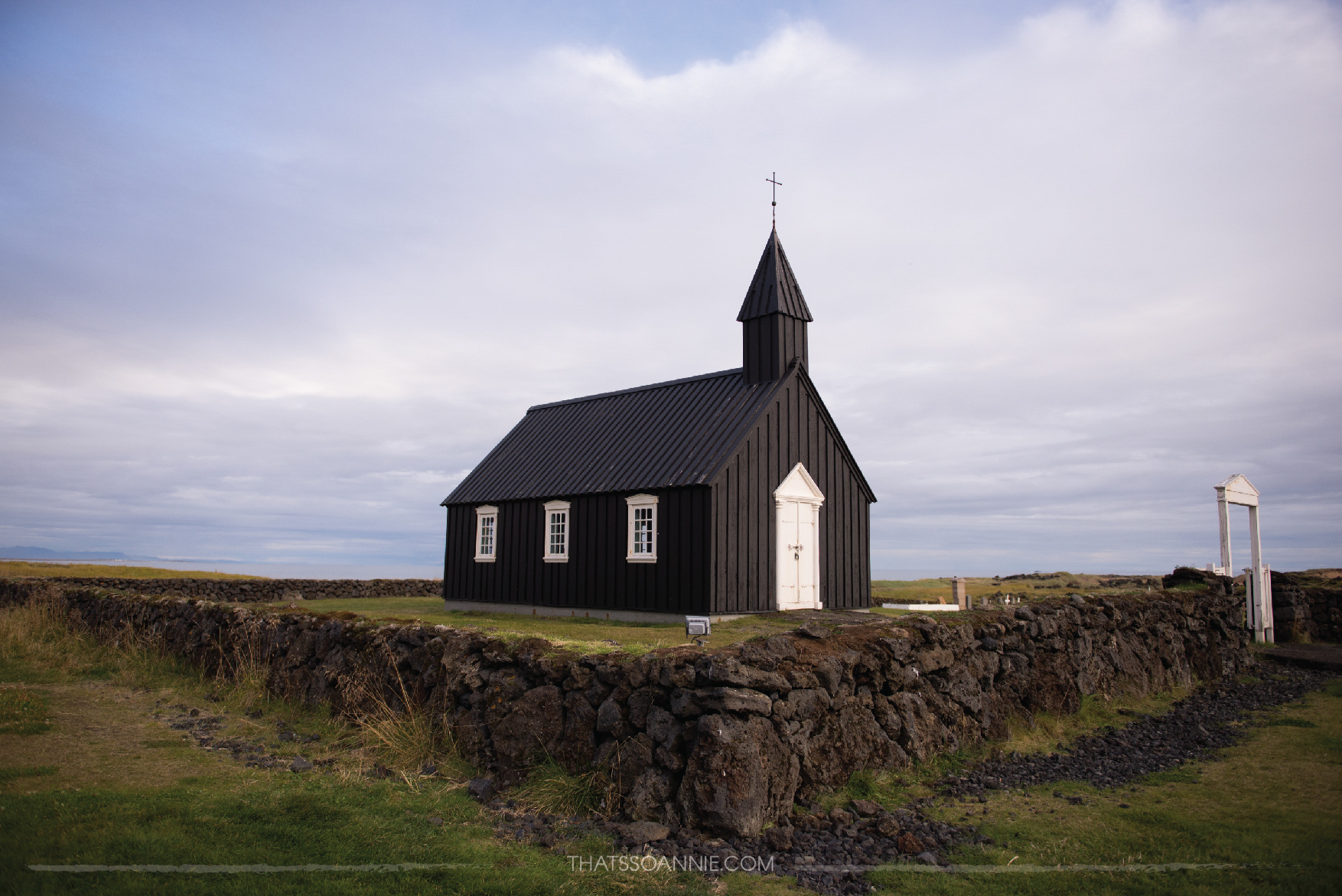 We carried on towards the tiny fishing villages of Arnarstapi and Hellnar, for some dramatic cliff sides and a crater-lake. Unfortunately, it was a bit of a walk around these villages to explore the area and we were very very behind on schedule, so we decided to move on. Someday I am definitely going back to explore these places we missed.
As we worked our way towards the western-most tip of the peninsula, spread out before us were sprawling mossy lava fields that looked so weird but wonderful at the same time. I had never seen anything like it before (a sentiment I was going to echo a LOT over the next few days!)
We stopped at Djúpalónssandur, a black pebble beach. A easy, short and marked trail led us down to the beach covered with black pebbles made of cooled lava that was thousands of years old.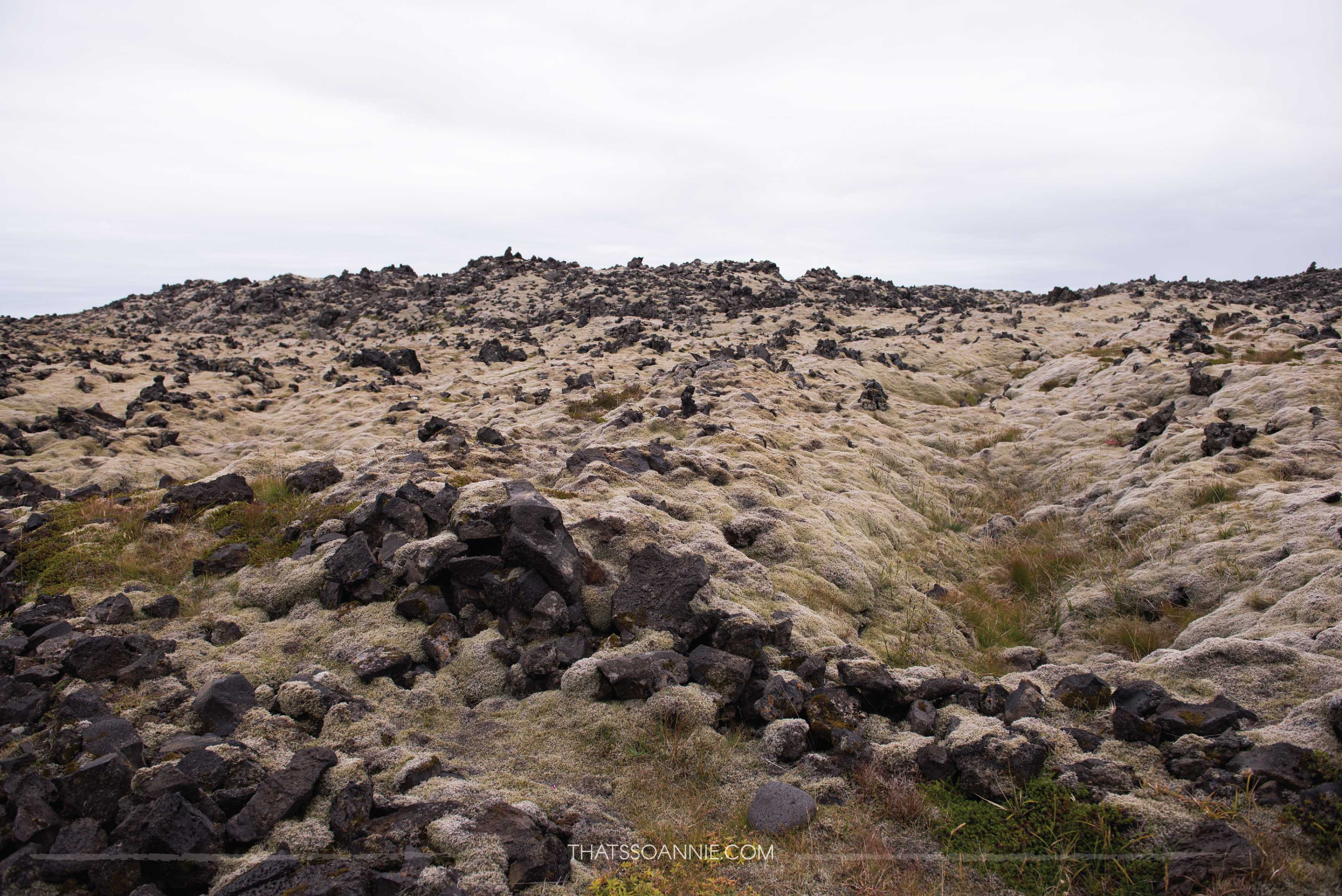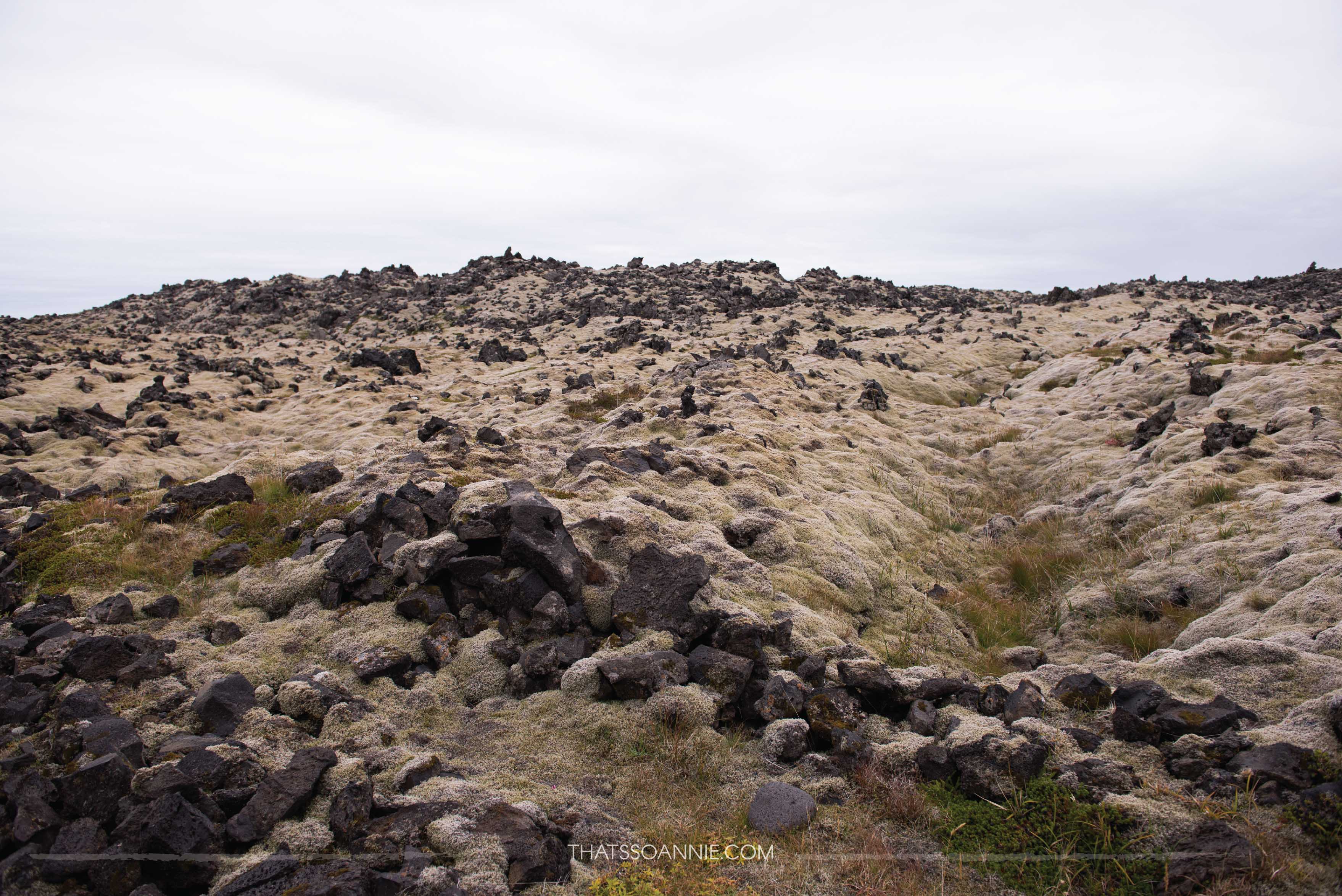 White and blue waves (featured image at the beginning) crashed against the black basalt rocks, and for a while we simply walked back and forth on the beach taking in the sight and the sounds. I have always thought that the susurrus of the surf on a beach is one of our planet's most soothing sounds. Being lost in the sound here, with no one else around was bliss 🙂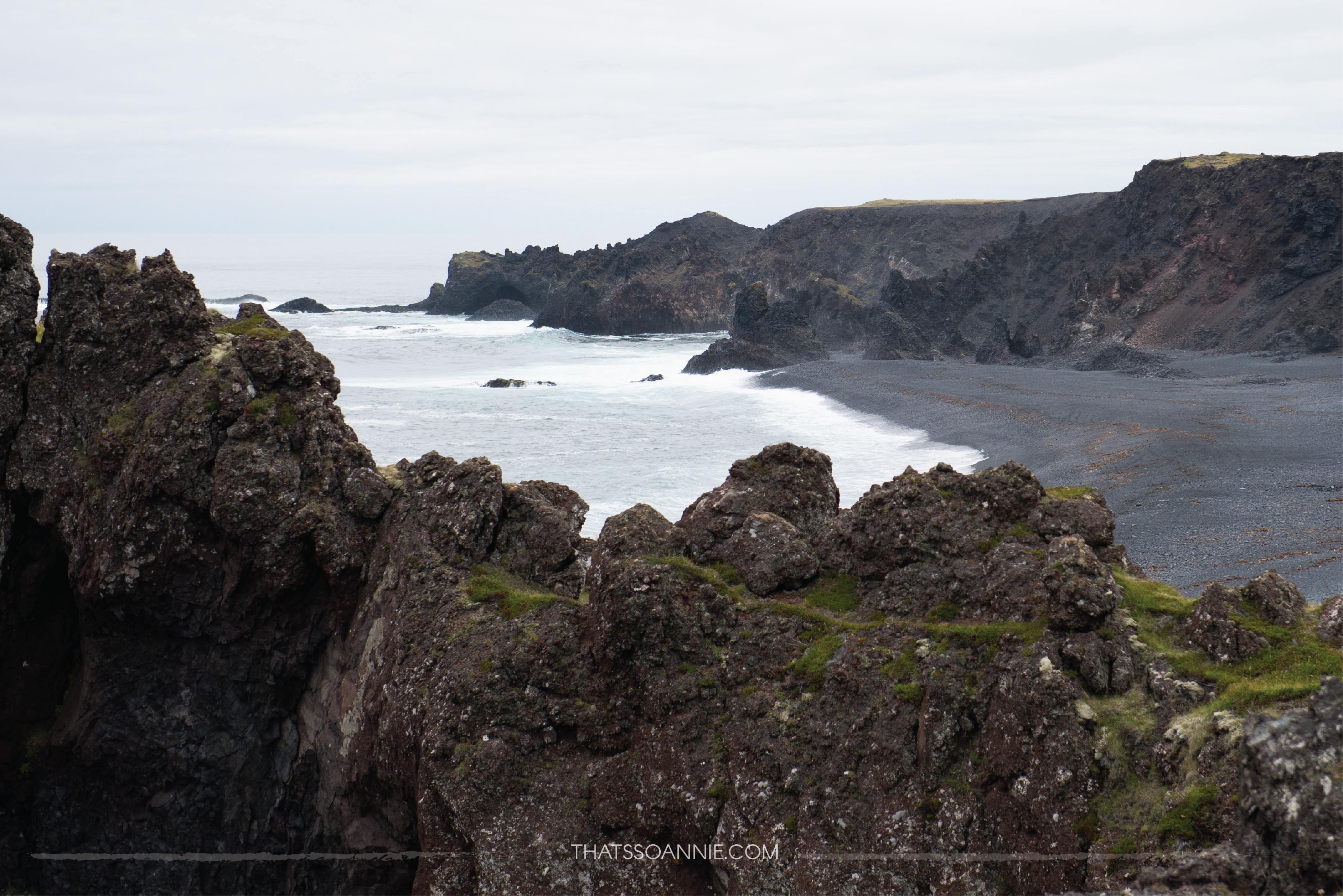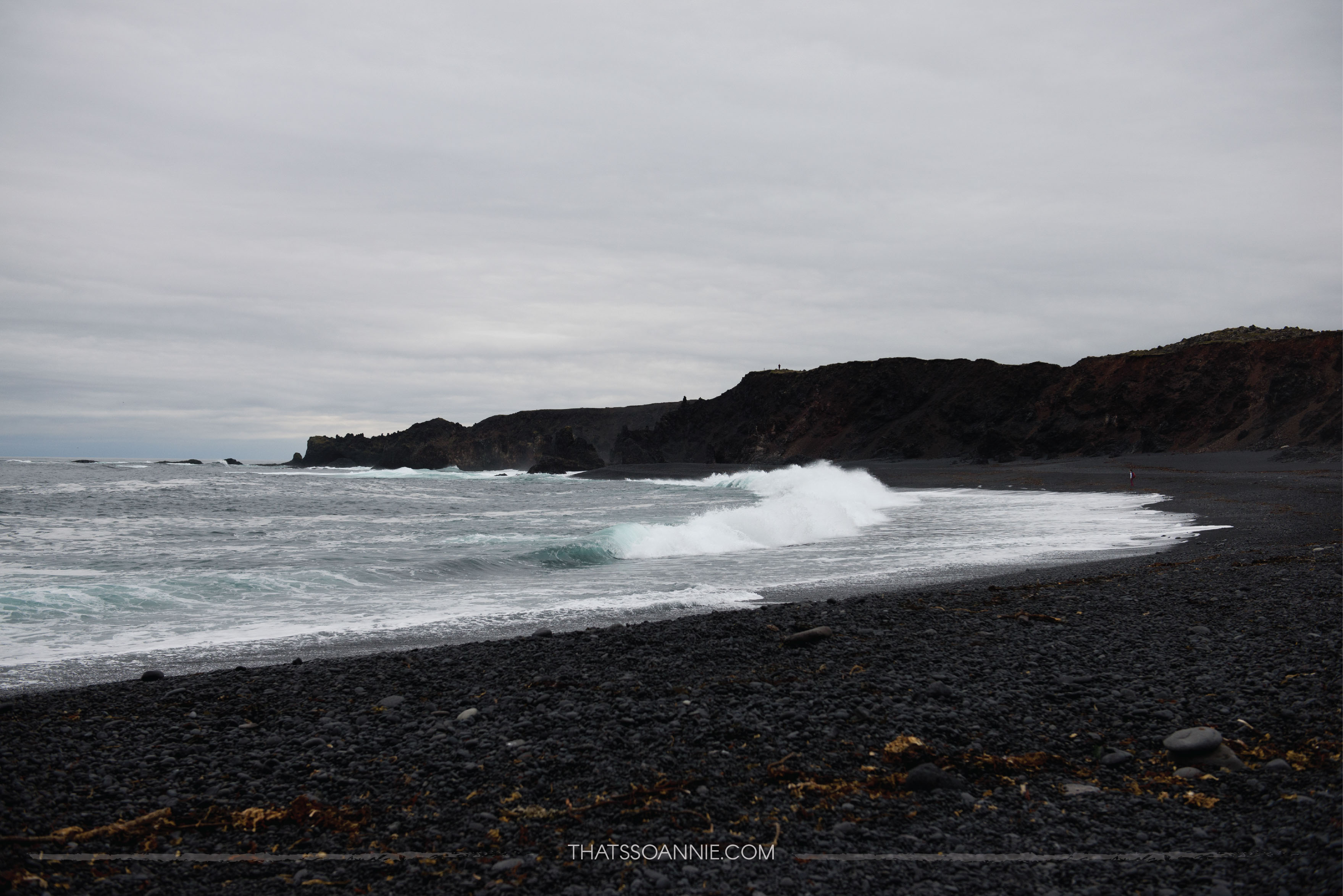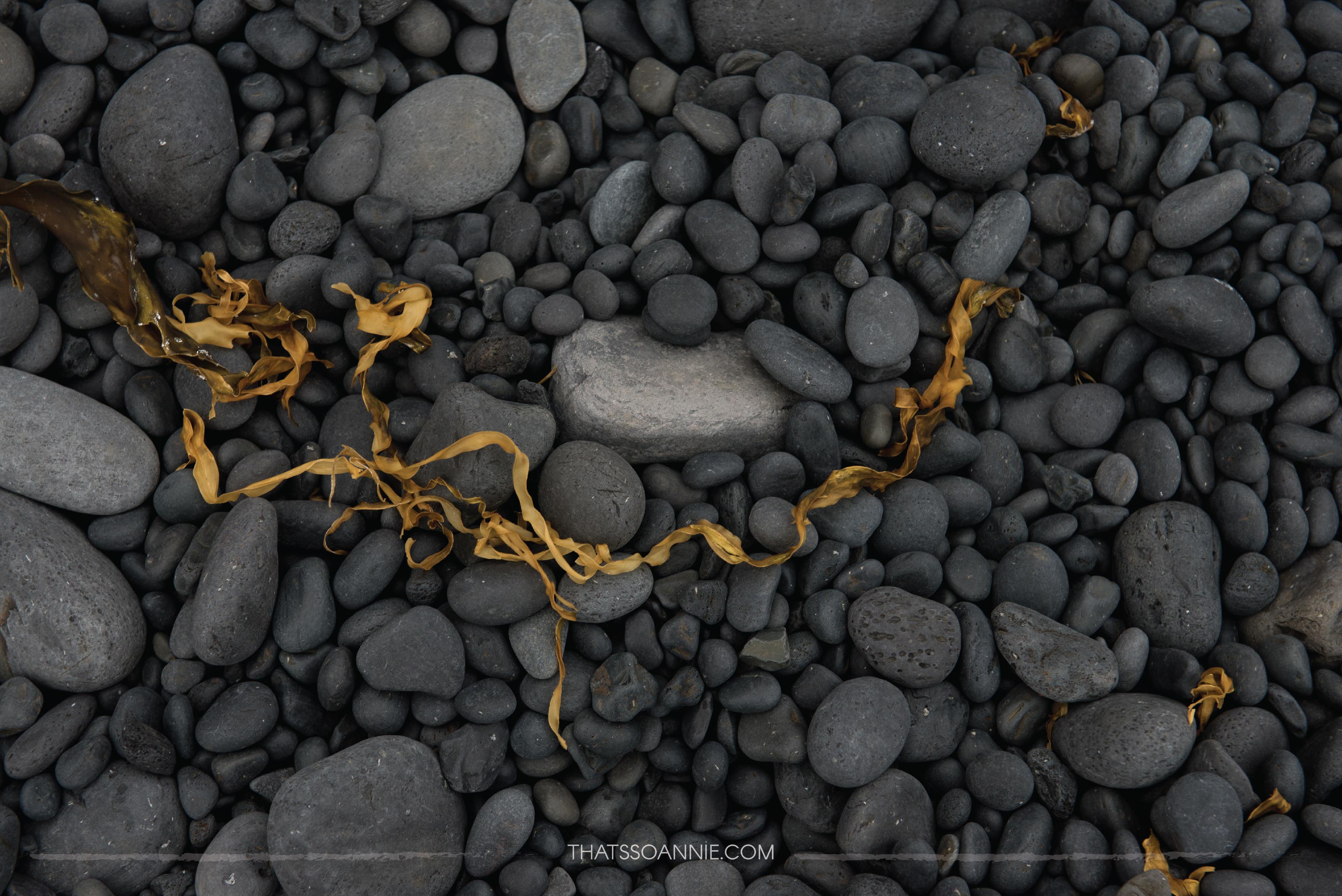 By the time we hiked back to the parking lot, the cloud cover was thick and the air was heavy with the promise of rain. We decided to skip the exploring the Vatnshellir lava cave, which is a 8000 year old underground lava cave that is a must-explore if you are in the area (the cave is accessible only with a guide  tours can be booked with Summit Adventures).
We decided to settle in for the night at the nearby campsite of Ólafsvík. I was slightly put off by this cloudy, rainy weather because I had planned to go much further ahead on this day.
Luckily, the Ólafsvík campsite was perfect with a clean, functional indoor kitchenette (they had utensils, stove and a dining table) and clean showers with warm water. We cooked our first meal of the trip with little fanfare, and by the time we were done there was a steady drizzle and some wind. Finally relatively exhausted and tired from a full day of travel, we settled in our sleeping bags for the night and quickly dozed off.
.. I didn't know it then, but the night was going to get pretty wild in a few hours. 😀
~ Annie.