As much as I have been ready for adventure and thrill from the get go, I had never actually tried extreme sports. Everyone always talks about that rush of adrenaline after a bungee jump or a sky dive, and I had no real sense of what that meant. So, when I made my 30 before 30 list I put 'go bungee jumping / sky diving (any adventure sport really!)' right at the top.
I checked off this list item – and with much grandeur! 😀 – in Iceland this past month when the guy and I snorkeled at the Silfra Fissure where the American and Eurasian tectonic plates are drifting away by 2 cm every year.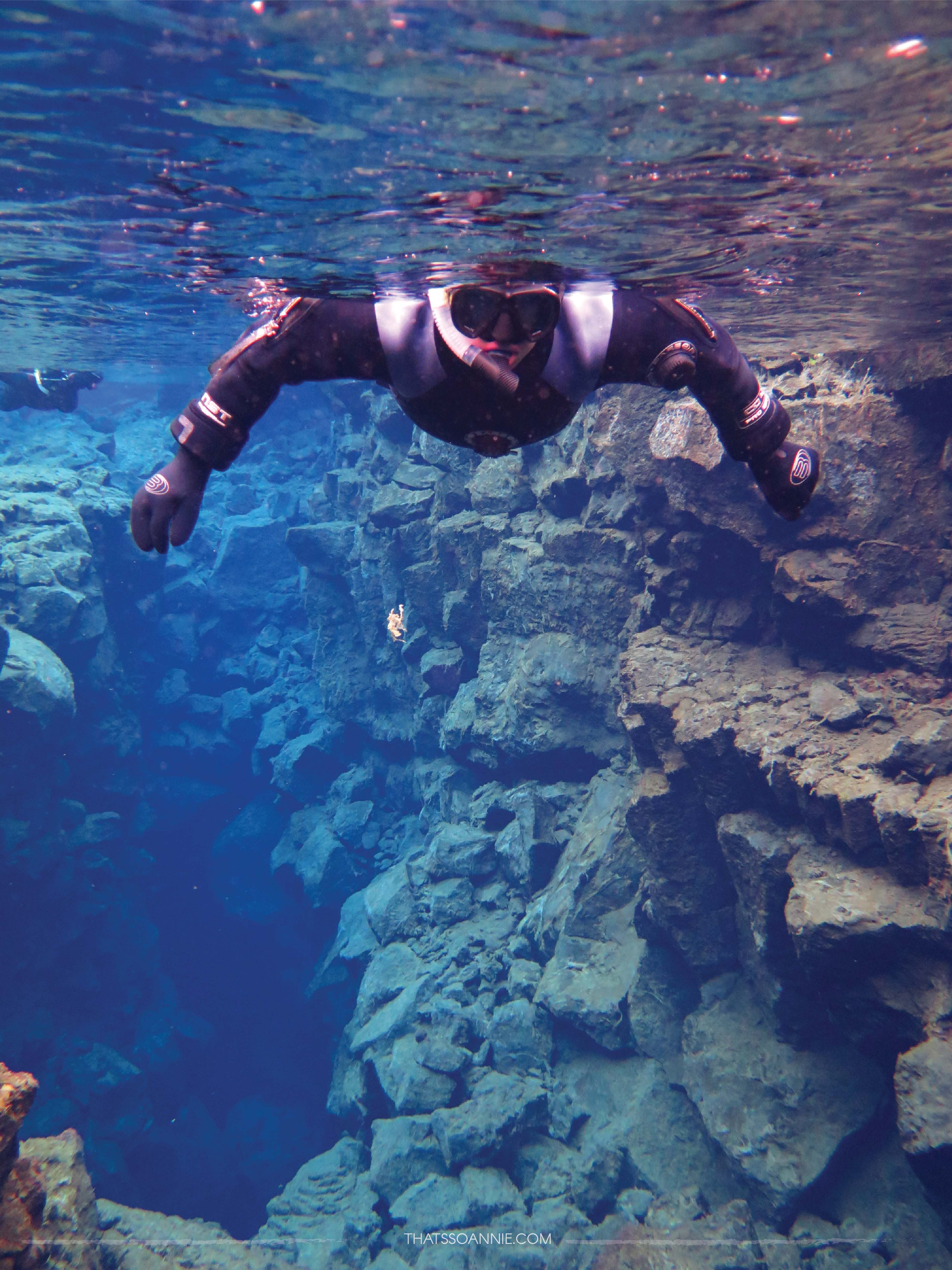 GETTING THERE
Because our snorkel session was the first session of the day at 9.00 AM, we spent the previous night at the campsite in Þingvellir National Park. The campsite is only 10 minutes away from the Silfra Diving site. Most tour operators have pick ups available from Reykjavik too. We were instructed to meet the lovely people from Dive.is at the suiting area which is about 100 metres from the actual dive site.
Protip: If you are driving in like we did, remember that the suiting area does NOT have parking for external vehicles. You will need to park your vehicle at the public parking and walk back to the suiting area which will take about 5-7 minutes.

GETTING READY
By the time we walked to the suiting area after parking our car, one of the instructors, Chris, was already doing a head count of a large group of about 30 people. Then we took us over to the other side of the road where we would dive in later and explained about the geology of the area and what we would do during the snorkel. Just like our guide from the glacier hike earlier in our roadtrip, he was quite engaging and funny! 😀
Once we got back to the suiting area we were divided into smaller groups of 6. Out instructor for the dive, Adrian, handed us our dry suits. I'll be very honest here – these look and feel horrendous. It is a task trying to slip into one of these! Some people stripped down to the basics on the spot, while some of us looked around anxiously for restrooms. Luckily Dive.is has restrooms and we were able to slink away to the back to get into the dry suits (phew!). You are supposed to wear your thermals underneath these suits because even though they keep you (mostly) dry, the water is at a constant 2-4 degree Celsius throughout the year. Brr!
The dry suit is VERY uncomfortable, especially around the hands and the neck, just shy of choking you (as it should be, because it prevents the water from flooding in). For people whose dry suit isn't snug enough, they use large collar-like zip ties to block off the air. Adrian did this for me and I finally understood why my cats hate their collars. 😐
Next, Adrian helped us put on the flippers, hood's and neoprene gloves (these trap the freezing water the first time you dunk in and then warm it using your body heat). Finally we were done and off we went, waddling away in a funny little line towards the Silfra Fissure.
Protip: We double-layered all our thermal inner-wear including socks, it really helped with the cold water. Take a moment to breathe in and out while in the dry suit in case you feel claustrophobic. This eases once you are in the water but once you are in, there is no way to turn back.. so just remain calm.
.. AND DIVING IN!
We were the only ones who had never been snorkeling before, so I was worried about how this session would turn out. Excited but nervous, we donned our snorkeling masks and carefully took the stairs that led to the water.
Even though I had seen pictures and videos of the dive, it was a shock to go from scanning grey cloudy skies over the horizon to a sudden crystal clear blue view. The difference between the two views is stunning and I think everyone who does this dive or snorkel gasps in delightful wonder! 🙂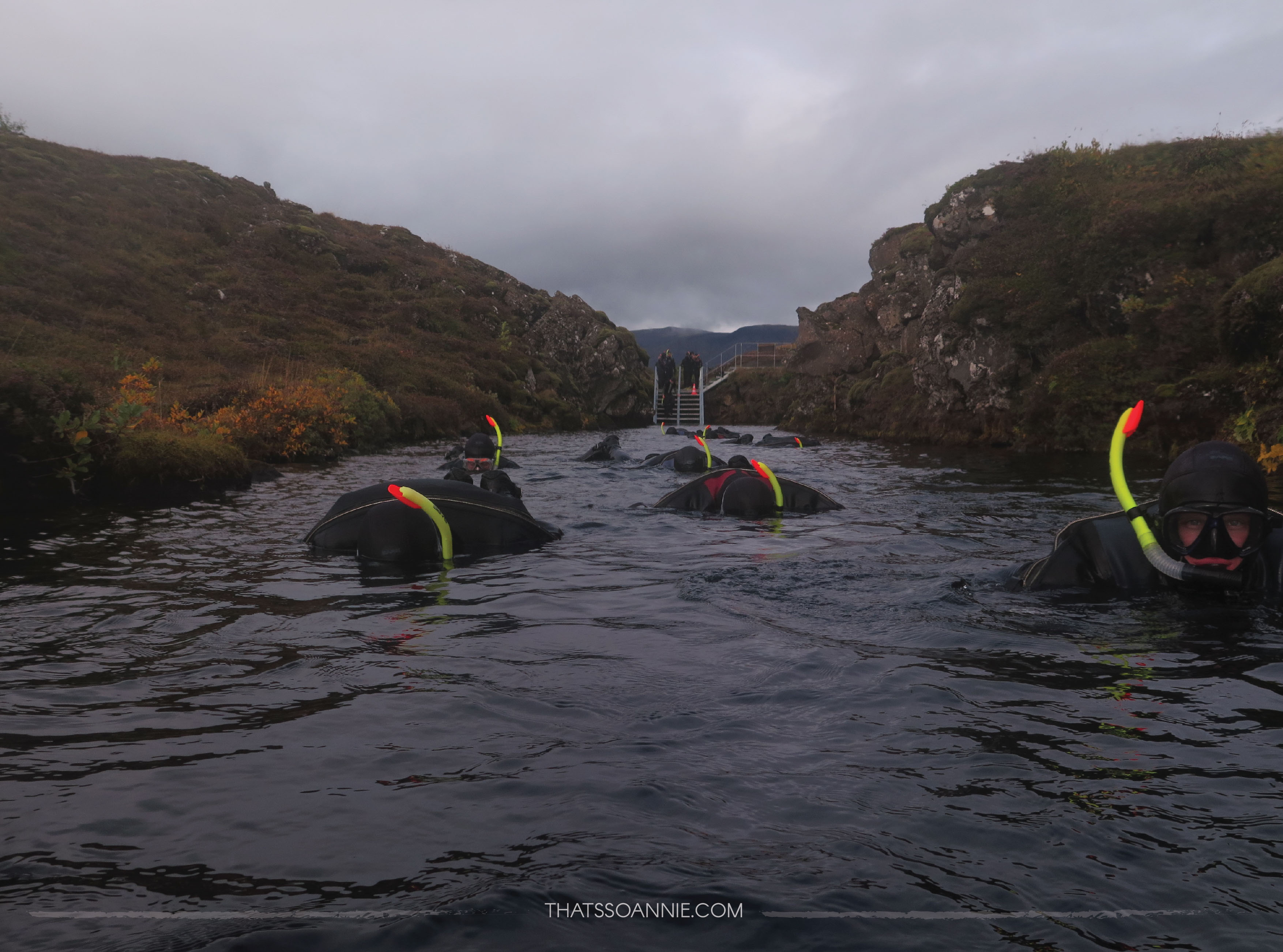 Every single shade of blue that you could ever possibly imagine swayed gently before us. It was scary for the first two seconds because you can clearly see the ground many meters below you. The vertigo is dizzying! 😀 In those first few seconds, you force yourself to breathe through the snorkel and use your flippers, let your vision and body adjust to the water and everything it contains. Every single second after that is spent marveling at the beauty of Silfra. It almost feels like you are flying above an incredible underwater landscape, as weird as that sounds.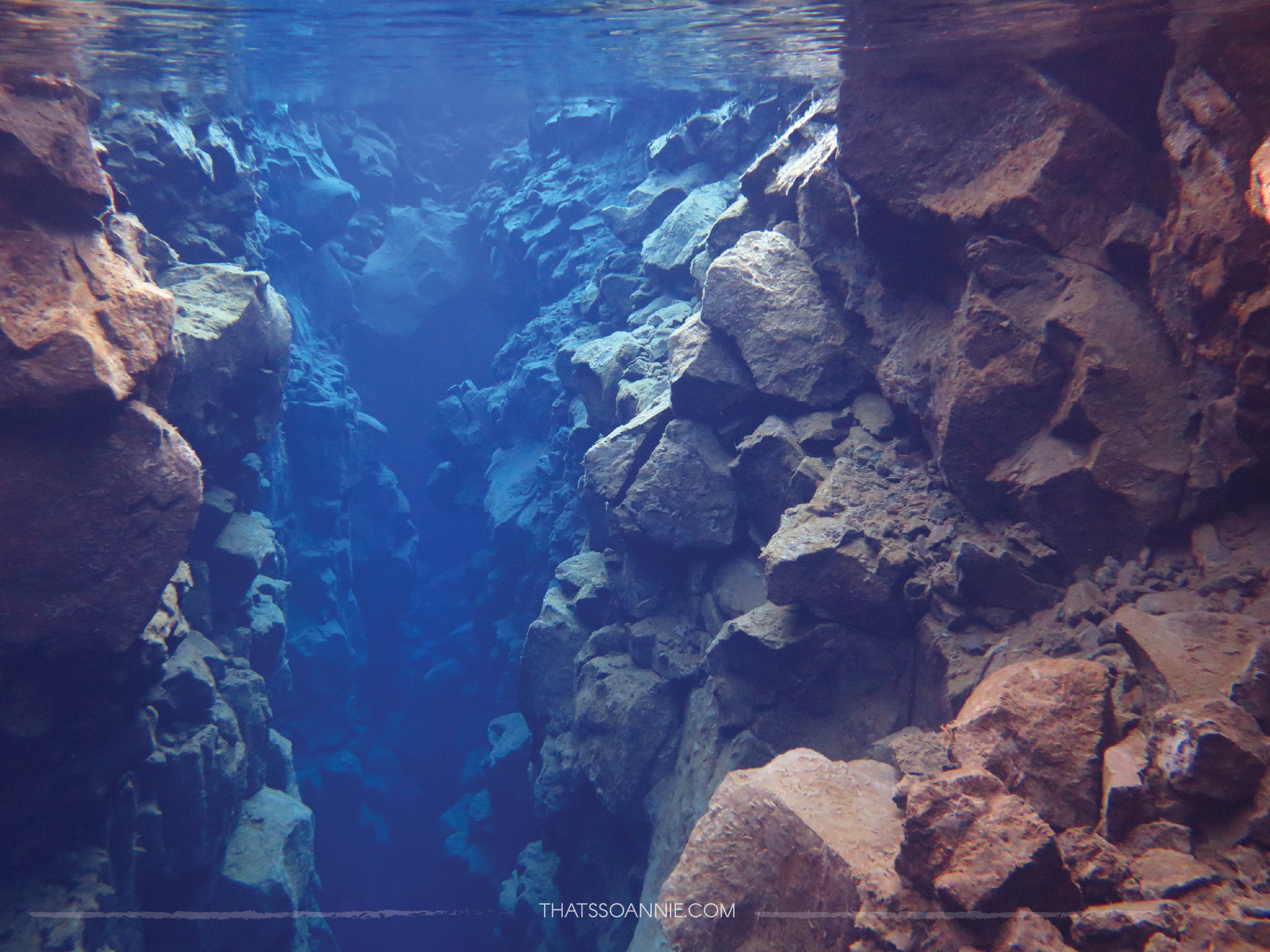 The Mid-Atlantic Ridge that pushes the American and Eurasian tectonic plates apart, rips right down though the middle of Iceland. And here we were, gently drifting away right on top of it without a care in the world. Well.. carefree except that my hands and face were FREEZING! 😀
We floated behind our guide through Big Crack – here the tectonic plates are so close you could almost touch them both.. talk about being in two places at once huh? 🙂 – out towards Silfra Hall where the rift widens and the blue reminds you of why it is your favorite color, eventually floating towards Silfra Cathedral where your stomach drops for a moment because the ground is the furthest away from you than it has been so far and you are flying over moss covered boulders, and into the last part of the dive at the Silfra Lagoon.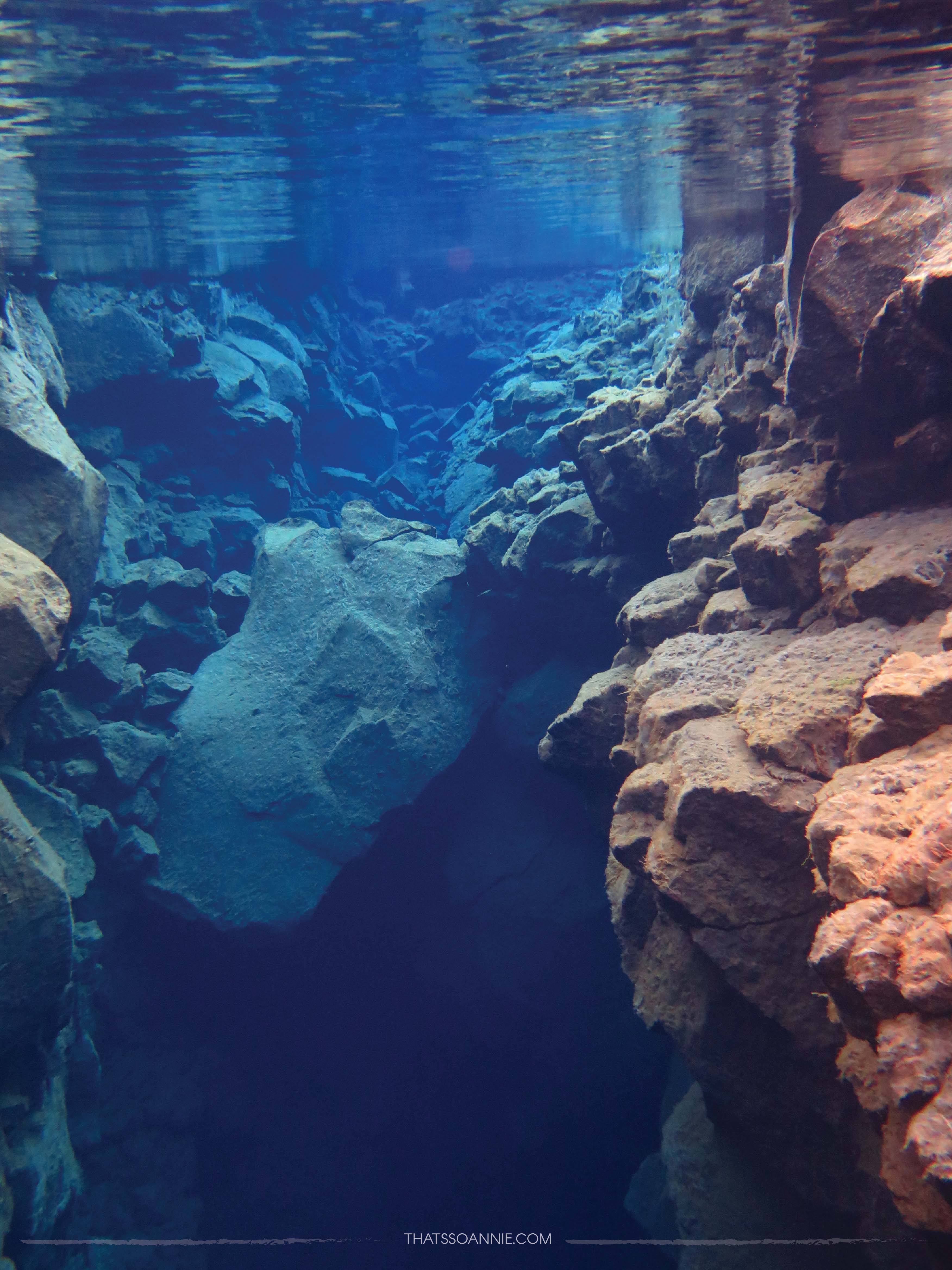 As I swam through the water devoid of any life (it is too cold for anything to grows here, save some algae and moss), and sipped some of the glacial goodness that has been filtered through a network of underground lava tubes over decades, I couldn't help thinking about how stunning our planet is and what an incredible privilege it is to experience it up close and personal. Made me teary for a bit there. 🙂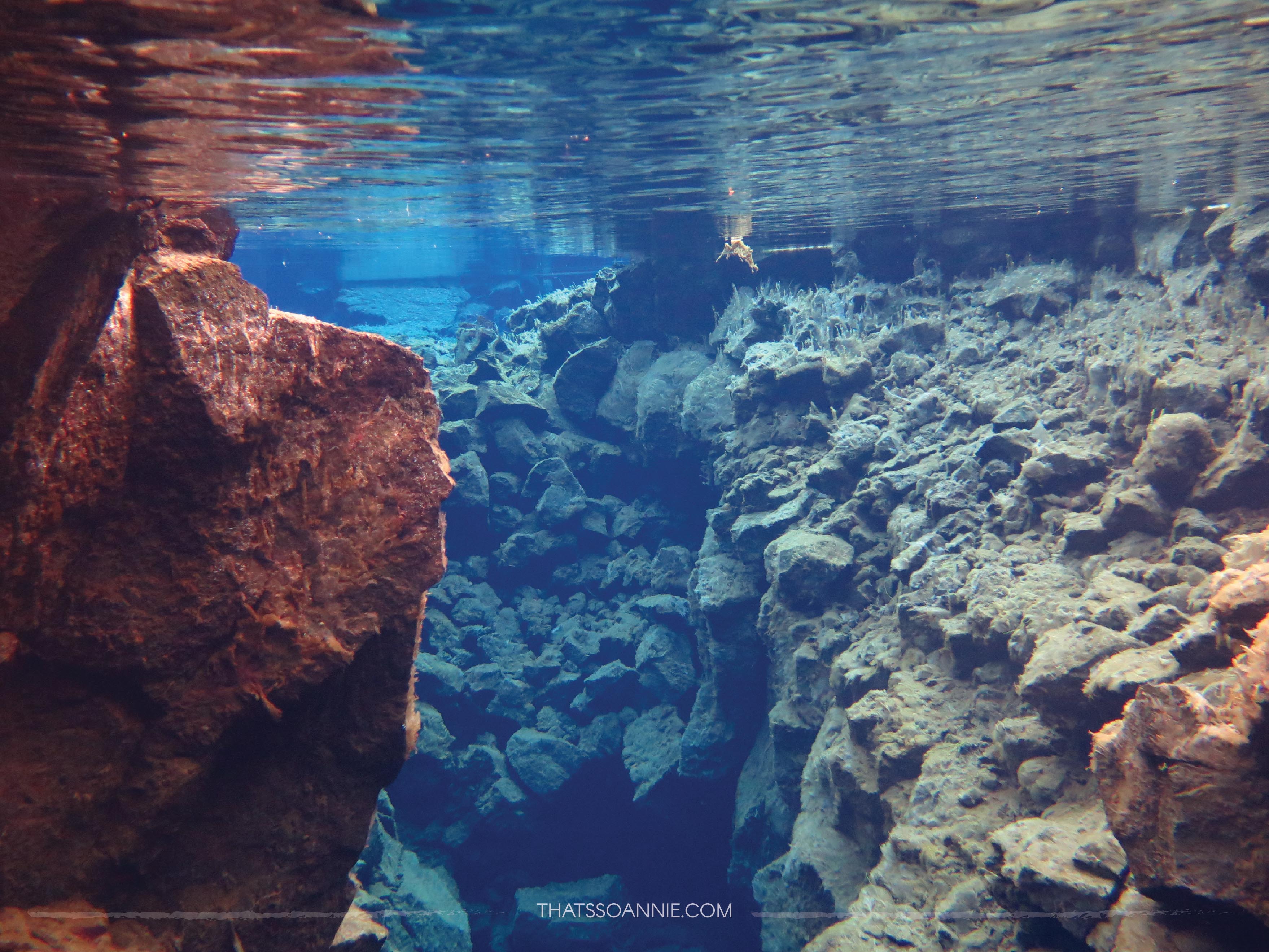 The dive lasted about 40 minutes, by the end of which I couldn't feel my face and fingers anymore. The divers were left to explore on their own in the Silfra Lagoon at the end of the dive but both the guy and I were too numb and cold to function anymore so we got out.
Getting out of the water a little tricky, what with all the bobbing like a ball, and trying to right yourself in those suits but the guide helped. Walking back to the camp dripping wet in the freezing wind was even worse because it felt like my face was on fire. The walk seemed to last forever and the collar on my neck was getting uncomfortable to the point of being painful. Luckily they snipped it open as soon as we got to the suiting area. I couldn't get out of my suit and into my multiple layers of clothes fast enough after that!
Adrian finished off the incredible session by handing out hot chocolate and cookies, which may have been the best hot chocolate I have ever had because it was heaven-sent for our cold selves right then. 😀
I have repeated "I cannot believe I did that!" about this snorkel a thousand times since then, and frankly I think I will never get over how surreal the whole experience was. This one of a kind adventure, truly made our road trip something special.
PRACTICAL INFO
Tour Operator: Dive.is
Cost: $170 per person (for pictures taken by the instructor during the dive, add an additional $20)
Duration: 3 hours (in water for about 45 minutes)
Pick up available from Reykjavik at the cost of $44 per person.
In summary, if Iceland isn't number one on your list of places to visit, move it up there.. NOW. 🙂
Annie